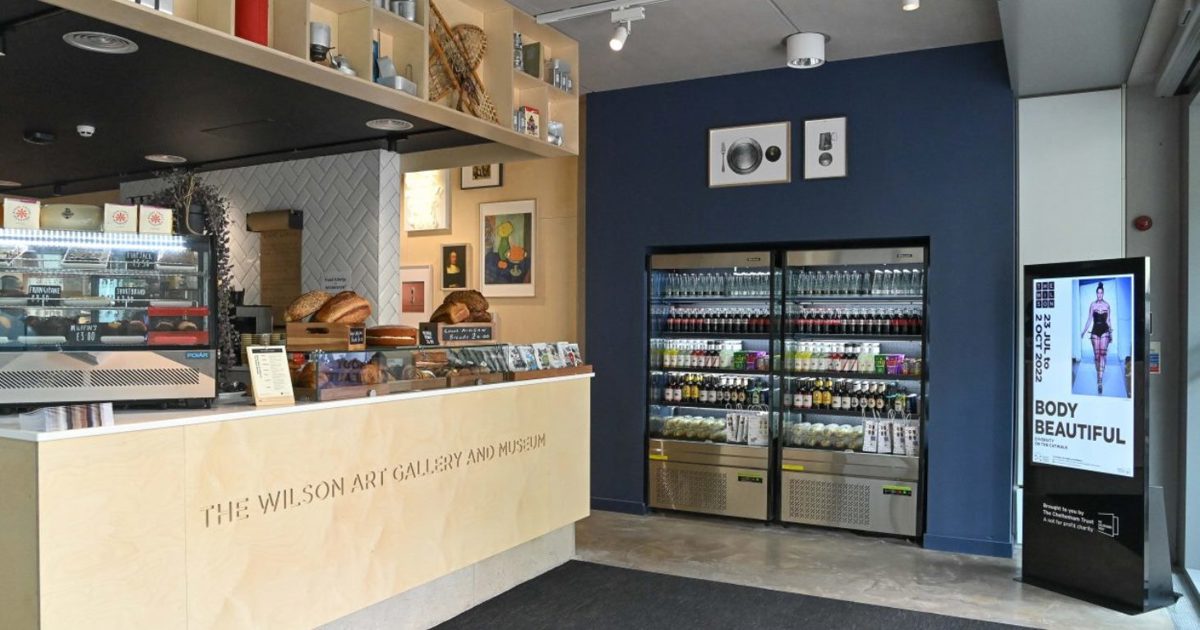 10 exciting new things to discover at the Wilson Art Gallery and Museum
The Wilson Art Gallery and Museum in Cheltenham finally reopened to the public in July 2022 following its £500,000 refurbishment.
With everything from a brand new gallery space to a vibrant new arts cafeé, SoGlos brings together 10 exciting novelties to discover during your next visit…
1. The Wilson kitchen
The Wilson Kitchen Arts Café on the ground floor greets visitors with the smell of freshly brewed coffee and a selection of delicious cakes and pastries as soon as they walk through the door. The lively café offers a small but perfectly formed menu ranging from tasty breakfasts to light lunches, with vegan and gluten-free options, as well as a children's menu. There's also plenty of seating in a variety of spaces, from family cabins to comfy sofas to quieter spaces that are ideal for a working lunch.
2. The Sir Charles Irving Community Art Gallery
Created with money bequeathed by the Sir Charles Irving Trust in 2020, the new Sir Charles Irving Community Art Gallery is located on a mezzanine above one of The Wilson Kitchen's seating areas. The gallery aims to support local talent by providing a "low cost, high impact" space for artists to showcase their work, as well as providing support for exhibition planning; accessibility and interpretation; online and social media promotion; and the opportunity to sell works – with applications from April 2023 to March 2024 open now.
3. Body Beautiful: Diversity at the Catwalk exhibition
Wilson's first major exhibition was the famous Body Beautiful: Diversity on the Catwalk, created by National Museums Scotland. Showcasing inclusivity and body positivity in the fashion industry, the fascinating exhibition covers plus size fashion, age, gender inclusion and disability representation and features clothing from Jean Paul Gaultier, Vivienne Westwood, Max Mara and Dries Van Noten, as well as the world's first models representing Little People, made from body casts of activist Sinéad Burke. Body Beautiful is at the Wilson until Sunday, October 2, 2022.
4. Break The Cycle Community Exhibition
Complementing the fashion theme of Body Beautiful, The Wilson's first community exhibition at the Sir Charles Irving Community Art Gallery is Break The Cycle, showcasing upcycled denim clothing created by locals in Gloucestershire, with the help of local designers Milligan Beaumont and Jussara Nuzaré. Highlighting the incredible amount of resources and waste involved in producing just one new pair of jeans, the exhibition shows young people rejecting fast fashion, embracing second-hand clothing shopping and creatively recycling clothes to transform them into unique, high fashion looks – with a striking centerpiece made entirely from materials destined for landfill.
5. Foyle Learning Center
The newly refurbished Foyle Learning Center offers a fantastic space for hands-on workshops. The Creative Explorers Summer Craft Club runs from Wednesday August 3 to Wednesday August 24, 2022, giving kids ages 4-10 the chance to get creative in artist-led workshops, including a museum tour, mask making , painting, tie dyeing and more, with drinks and lunch included for £25 per session.
6. Creative Craft Classes
Passionate artisans can take a four-week course to learn how to make their own enamel jewelry in September 2022. Artist and jeweler Josie Wickes will walk participants through metal jewelry making, filing and polishing, as well as how to create beautiful enamel surfaces on metal, while The Wilson's curator, Kirsty Hartsiotis, will take participants behind the scenes of the museum's Arts and Crafts collection to find inspiration for their creations. The course starts on Friday September 9, 2022 and costs £130 for all four sessions, with all materials included as well.
7. Arts and Crafts Collection
The Wilson has an extensive collection of internationally significant objects from the Arts and Crafts movement, ranging from furniture and pottery to textiles and jewellery, many of which are newly displayed in a beautifully redecorated gallery with a hand-painted mural . Inspired by William Morris, whose quotes adorn the walls around the gallery, the British Arts and Crafts Movement championed creative handmade work and was also mindful of sustainable production and conservation – with The Wilson's collection showing a variety of techniques, as well as documenting the movement's connection to Cheltenham and the Cotswolds.
8. The creators' space
Offering a glimpse into the behind-the-scenes processes of local artists and creators, The Wilson's maker space introduces visitors to painters Mark Amis and Alex Merry, responsible for the spectacular mural that serves as the backdrop for the new exhibition. Arts and Crafts Collection.
9. Bang the Drum Sessions in the WOW Gallery
Budding musicians can make some noise in the WOW gallery with the Bang the Drum sessions taking place from Wednesday, September 14 through Wednesday, October 26, 2022. From exploring instruments to learning simple rhythms and patterns, c is ideal for little ones who like to racket – with tickets costing £5 each.
10. We are creators
As part of the We Are Creators program, The Wilson is offering seven local emerging and early-career artists free space in its new artist studios on the third floor, as well as access to exhibition space and a variety of creative opportunities during their residency. While places for 2022 are currently being decided, there will be another chance to apply in 2023 – with full eligibility criteria available on The Wilson website.