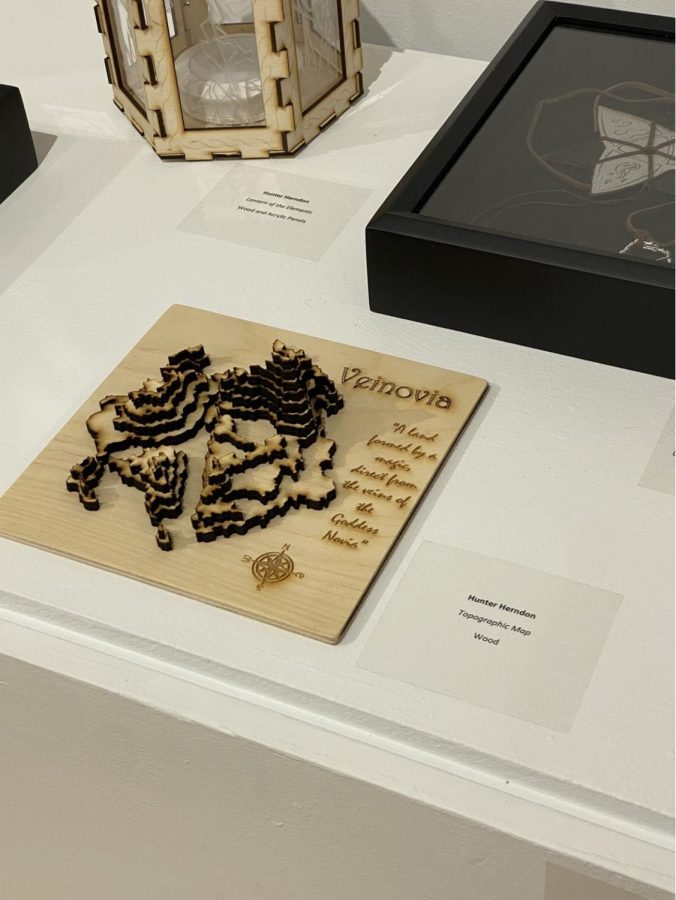 2022 UNCW Senior Art Exhibition Reflects Graduate Student Education – The Seahawk
On April 7, the Cultural Arts Building opened its Art Exhibition for Seniors, showcasing the work of 23 senior graduates majoring in studio art. Exposure is a basic requirement for seniors of the major. The exhibition is located in the art gallery and in the mezzanine gallery on the floor of the cultural arts building. It is now open to the public Monday through Friday from 10 a.m. to 4 p.m. until May 14.
The exhibition features works in painting, photography, sculpture, ceramics, papermaking and more. The subjects vary as much as the inspirations of these artists, from fantasy worlds to the exploration of beauty in more mundane settings.
"Each piece represents the culmination of their four years of study, a final synthesis of everything they have learned," said Professor Donald Furst, who led the seniors in these projects during the semester. "We ask them to visualize what their body of work will be like. What are you trying to convey? »
Showcases and stands presenting the work of several artists welcome visitors in front of the entrance to the gallery. Inside, the walls and displays create a section for each artist, while certain sculptures can be found throughout the gallery.
Akira Collins is one of the senior artists featured in this exhibit and has described his work as a combination of fine art and typography. "Fine art is seen in a gallery and typography usually isn't, so merging the two fields interests me," they said.
One of the pieces, titled "Necrotic", found inspiration in Collins' work as an RA. "The concept of writing lines as punishment, 'alive, awake, alert,'" they said. The work is handwritten, and the errors, crossed out in red ink to contrast the black, give it a particularly organic impression. Collins' interest in design and book covers provided visual inspiration for the exhibit.
Much of Hunter Herndon's work is made of laser-cut wood and is inspired by his deep interest in fantasy. Herndon's fictional world "Veinovia" finds its representation in exhibit features, including a topographic map of the area; a magic lantern; a journal with vivid illustrations and descriptions that reads like a manual for aspiring mages; and a set of gems which is a fun game about how a fantasy world might interpret a set of polyhedral dice. The fantastic work creates a sense of play in a wonderful and elaborate campaign of "Dungeons and Dragons".
"This project put pressure on me to flesh out some things and design a lot more than I already had," Herndon said. "I had never used laser cutting before this semester, but I am taking the laser cutting and 3D printing course. The map and the lantern were projects of this class that I incorporated into the showcase. »
Maggie Sudek, another featured senior, presented some interesting paper pieces. "Fiberwork" is the term for art made from paper or fiber, usually shaped into patterns or blends of colors. Sudek used this process to create pieces from recycled paper. Sudek manufactures and recycles a large part of the paper itself. Often the paper comes from a previous work that she has recycled and reused in another work. Although the paper looks delicate, it's actually strong and durable as the pieces hang from a string.
"The pieces I've shown are just a small fraction of what I've created because I fell in love with the process of it all," Sudek said. "I had to do a lot to do something substantial."
In addition to assembling their own thematic work, the students swore and prepared the exhibition themselves. Each student presented a piece they intended to feature, and the rest of the class voted for its inclusion in the exhibit. The students divided themselves into various committees, each responsible for preparing the exhibition in its own way. Sophia Pruett, a photographer who took photos of her Social Coffee workplace for the exhibit, shared her joy for the experience from start to finish.
"Participating in this exhibition taught me a lot about what it really takes to build a gallery from start to finish," Pruett said. "I was part of the installation committee and I hadn't done the necessary calculations to ensure that everything was perfectly centered on the walls. I am grateful to have been able to be part of something that allows people to appreciate the unique art created by everyone in the class. I now have a new appreciation for artists, curators and gallery installers.
This exhibition features many fantastic works by these 23 newly created artists. Their works are a testament to their talents as future graduates, and all are encouraged to visit the CAB gallery to see them. The exhibition is open Monday to Friday from 10 a.m. to 4 p.m. until May 14.