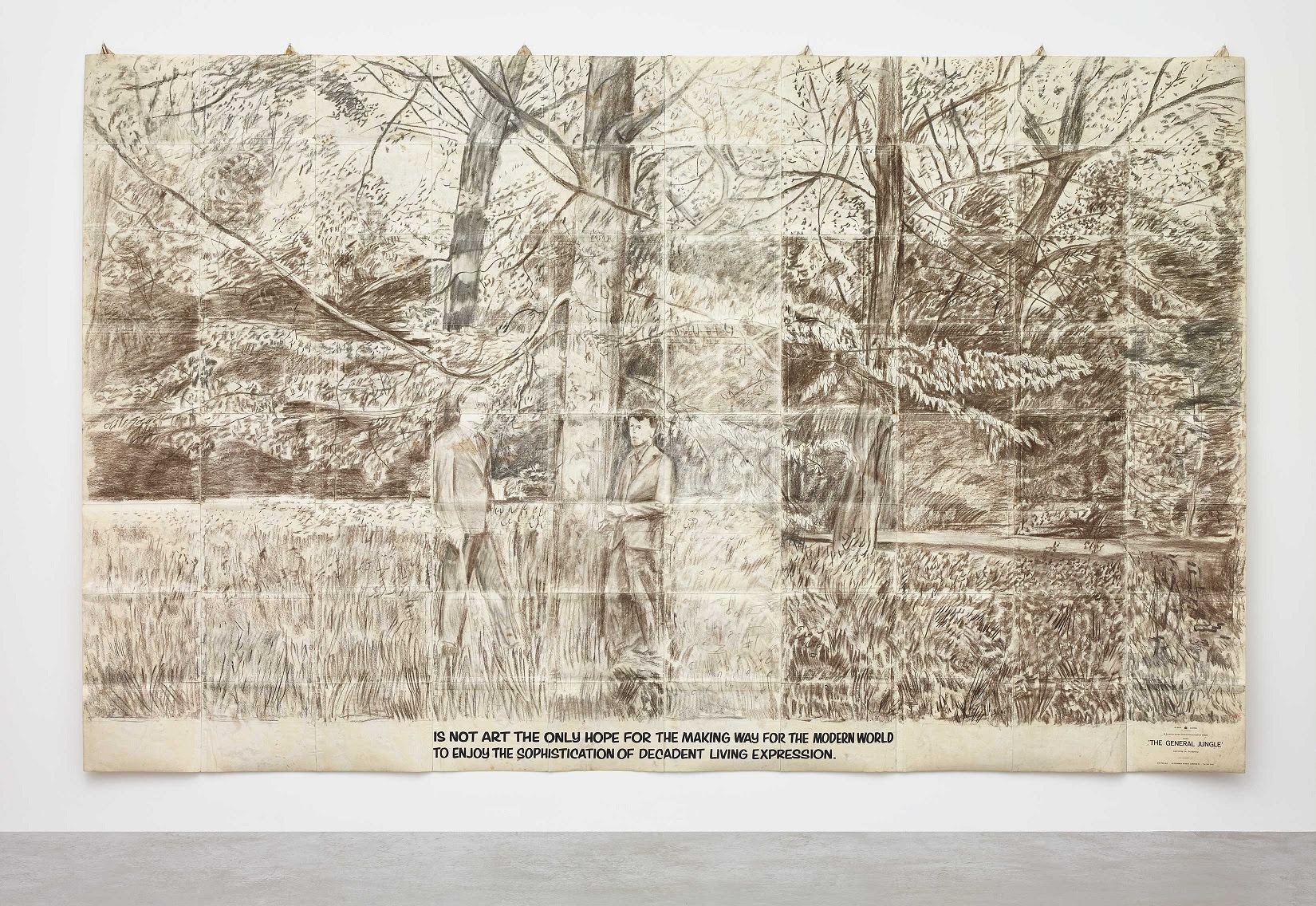 A monumental work of art by Gilbert & George arrives at Lévy Gorvy London
This fall, Gilbert & George are exhibiting The General Jungle or Carrying on Sculpting, comprised of twenty-three monumental multi-paneled pieces, one of the earliest manifestations of their "Art for All" philosophy, furthering their reputation as "living sculptures". – an identity and a belief maintained by the artists since their meeting at St Martin's School of Art in London, fifty years ago last September.
IS ART NOT THE ONLY HOPE TO MAKE ROOM FOR THE MODERN WORLD TO APPRECIATE THE SOPHISTICATION OF DECADENT LIVING EXPRESSION, 1971, charcoal on sculpture paper, 110 1/4 x 177 1/8 inches (280 x 450 cm). Private collection. Photo by Stephen White. © 2017 Gilbert & George?
Opening in Lévy Gorvy London on September 13, The General Jungle or Carrying on Sculpting will feature the first charcoal-on-paper 'sculptures' by the celebrated artist duo, on display at its Old Bond Street location until November 18. This will be the first exhibition in the UK to feature this seminal body of work, which was first shown at Sonnabend Gallery, New York in 1971 as an atmospheric backdrop for one of their works. the most famous, The Singing Sculpture.
"We are delighted to bring this important work to the UK, where the sculptures were made but have never been exhibited before," said Lock Kresler, Principal Director of Lévy Gorvy London. "This exhibition features loans from MAXXI, Rome and the Sonnabend Collection Foundation, the estate of Nina Sundell and Antonio Homem, and other major lenders. We are particularly grateful to these partners, as well as Gilbert & George, who helped make this meeting possible.
Gilbert & George: The General Jungle or Continuing to Sculpt September 13 – November 18, 2017
Opening: September 12, 6-8 p.m. Lévy Gorvy London www.levygorvy.com
About the artists
Gilbert Prousch (b. 1943, Dolomites, Italy) and George Passmore (b. 1942, Devon, England) met at St Martin's School of Art in London in 1967. They were both enrolled in the sculpture department and formed an early alliance, in opposition to the minimal and conceptual ideologies prevalent among their contemporaries – developing instead an 'art for all' mantra. They quickly understood that they were their art and have since functioned as "living sculptures" – sacrificing their individual identities to devote themselves to a more democratic artistic practice. Working across a variety of media (gridded "photo work" becoming their signature format), they took life as their primary subject, placing taboos such as gender, religion, race and class at the heart of their work. In 1968 they established their studio at 12 Fournier Street in the East End of London, where they continue to live and work today.
Gilbert & George were awarded the Turner Prize in 1986 and represented Britain at the 51st International Art Exhibition at the Venice Biennale in 2005. In 2011 they received the Lifetime Achievement Award from the New Museum in New York. They have exhibited in institutions around the world, with recent presentations such as Scapegoating Pictures, Ludwig Museum, Budapest (2017); Luther und Die Avant Garde, St. Matthew's Church, Berlin (2017); The Early Years, Museum of Modern Art, New York (2015); and The Art Exhibition, Museum of Old and New Art, Berriedale, Tasmania (2015). Their works can be found in the permanent collections of major international museums, including: Tate Modern, London; the National Galleries of Scotland, Edinburgh; the Ludwig Museum, Cologne; the Stedelijk Museum, Amsterdam; the Guggenheim Museum, Bilbao; the Art Institute of Chicago; the Museum of Modern Art in New York; the Cleveland Museum of Art; the Philadelphia Museum of Art; the San Francisco Museum of Modern Art; and the Art Gallery of New South Wales, Sydney, among many others.
Categories
Keywords
Gilbert and George
Levy Gorvy London
Author
Marc Westall
Mark Westall is the founder and editor of FAD magazine, founder and co-editor of Art of Conversation and founder of the @worldoffad platform
It was on a hot August morning in 2014, sitting in a curry house on a side street of Brick Lane, when Gilbert told me he was at Wembley for the 1966 World Cup final.
White Cube will present Gilbert & George's 'NEW NORMAL PICTURES'. This major exhibition brings together 26 new images described by the artists as "festive, crazy and ultra-modern".
Ben Brown Fine Arts will present to the London gallery an extraordinary set of images by celebrated British artists Gilbert & George, exhibited together for the first time from an important private collection. After meeting at Saint Martin's School of Art in London in 1967, Gilbert and George have been creating art together ever since, fully integrating all aspects of their lives into their art, making "living sculptures" of each other.
I did, however, have an unsurprising time in Mayfair as S2 opened the third and final installment of Signals Reimagined, Levy Gorvy was irresistible presenting two of my favorite artists in dialogue and Artangel took over the Cork Street construction site for a amazing fundraising auction. .