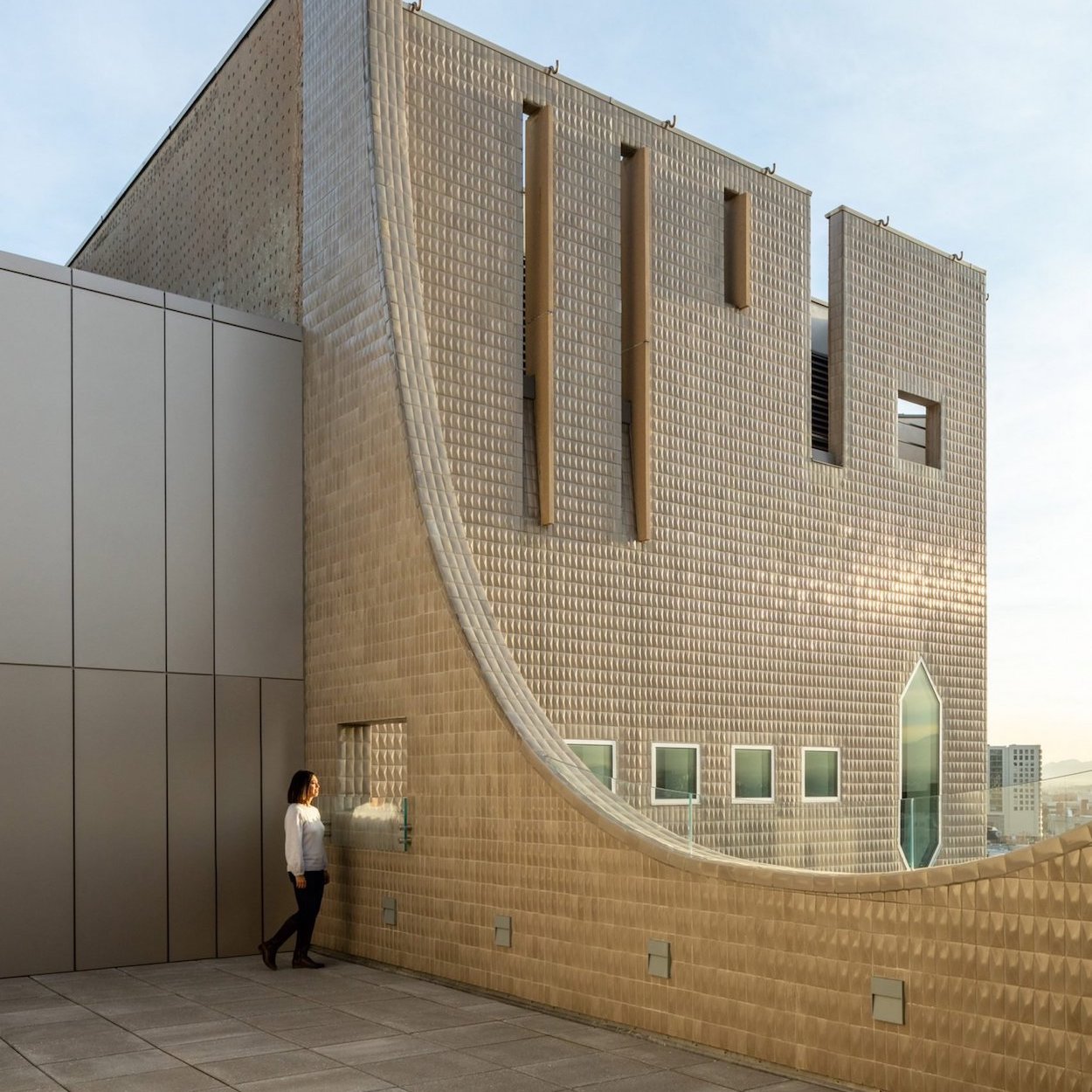 A thoughtful update to Gio Ponti's Denver Art Museum – SURFACE
[ad_1]
Although Gio Ponti actively designed in the United States as early as 1928 and throughout the 1950s, the late Italian architect completed only one building in North America: the Denver Art Museum, a commission he commissioned. accepted in 1965 at the age of 74. The castle-like tower eschewed traditional museum archetypes at the time, sporting such design as unexpected window openings, a rooftop terrace with views of the Rocky Mountains, and 24 facades clad in over a million tiles reflective glass. To celebrate the museum's 50th anniversary, Machado Silvetti and local firm Fentress Architects embarked on a campus-wide transformation that involved the creation of a new visitor center, outdoor spaces, reconfigured galleries and additional space for events and meals.
Of all the interventions, the most notable is the Sie Welcome Center which adjoins the tower, newly renamed Martin Building, d and refers to an elliptical auditorium that Ponti had originally planned for the museum. "To create the new Sie Visitor Center in Denver's architecturally rich Golden Triangle Creative District, it was essential for us to design a structure that dialogues with the dynamic visual language of Ponti and Studio Libeskind's designs. , while providing a connection with the museum, "explains Jorge Silvetti, director of Machado Silvetti." With its elliptical shape accessible from all angles and its transparent glass facade, the center is an inviting and bright beacon to accommodate all visitors. "It streamlines access to Studio Libeskind's titanium Hamilton building, which otherwise remains intact.
When the first phase of the renovation opens at the end of October, visitors will be able to browse through brand new gallery spaces designed by OMA and Esrawe + Cadena. The inaugural exhibition? "Gio Ponti: Designer of a Thousand Talents", which presents a range of objects from the museum's complete collection of architecture and design. The wide range of works on display will reinforce the wide range of traditional and modern materials and techniques that Ponti has employed throughout his illustrious career.
Ponti may have a moment. The news of the exhibition follows the reissue of the Round D.154.5 chair for Molteni & C and the publication of Gio Ponti, a striking tome that documents his approach to every design project in great detail, from the essential details of a teaspoon to the more than 100 buildings he has completed in his six-decade career. "The most resistant element is not wood, it is not stone, it is not steel, it is not glass", describes Ponti in the book published by Taschen. "The strongest element in construction is art." The Denver Art Museum – the architectural intrigue Ponti infused into his unconventional construction and thoughtful renovation – upholds this principle.
[ad_2]