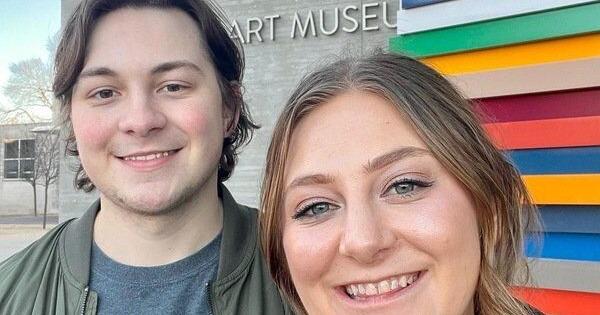 Admire the Paintings at the Speed ​​Art Museum | News
[ad_1]
"The love of beauty is taste. The creation of beauty is art. "- Ralph Waldo Emerson
This is the quote below Experience number 77 on the Kentucky Bucket List, written by Michael Crisp, which features 100 Kentucky Experiences.
This experience consisted of visiting the Speed ​​Art Museum in Louisville, Kentucky.
Speed ​​Art Museum
Founded in 1927, the Speed ​​Art Museum is Kentucky's oldest and largest art museum with more than 12,000 pieces in its permanent collection, according to their website.
Its vast collection spans 6,000 years, ranging from ancient Egypt to contemporary art, including 17th century Dutch and Flemish painting; 18th century French art; Renaissance and Baroque tapestries; contemporary American painting and sculpture; African and Native American works and paintings; and sculpture, furniture, and decorative arts by Kentucky artists.
In the Kentucky exhibit, several works of art were from Madison County, including a sugar chest of drawers and a chest of drawers.
The Speed ​​has organized major photography, painting, design and sculpture exhibitions in the region to help it fulfill its ambitious mission of bringing great art and people together. The museum welcomes more than 180,000 visitors a year.
The museum was built in 1927 by Arthur Loomis in the neoclassical style, according to a Speed ​​Museum magazine. Loomis was already well known in Louisville for landmarks like Louisville Medical College and Levy Brothers. The original building was designed as a sober Beaux-Arts limestone facade. Hattie Bishop Speed ​​established the museum in memory of her husband James Breckenridge Speed, a prominent Louisville businessman, art collector and philanthropist, according to the museum's literature.
Ms. Speed ​​created the endowment to fund the museum, encouraging the museum to never charge for admission.
The museum was the subject of a $ 60 million expansion and renovation project from September 2012 to March 2016, designed by architect Kulapat Yantrasast of wHY architecture. During the closure, the museum opened Local Speed, a satellite space in the East Market District of Louisville (NuLu) for rotating exhibits, programs and events.
The 62,500 square foot north building doubled the total square footage and nearly tripled the gallery space compared to the previous wing. The expansion created space for larger special exhibitions, new contemporary art galleries, a family education welcome center, a 150-seat cinema, an indoor / outdoor café, a museum shop and a multifunctional pavilion for shows, conferences and entertainment. In addition, the new Elizabeth P. and Frederick K. Cressman Art Park and Public Square have been created for the sculpture exhibition.
The Speed ​​presents modern works from all over the world and century-old masterpieces. Notable artists featured at Speed ​​include Pablo Picasso, Matthew Harris Jouett, and Rembrandt. Rembrandt's 'Portrait of a Woman' was acquired and unveiled on the Speed's 50th anniversary in 1977 and is one of the museum's most notable purchases to date. More recently, the museum has implemented works of art inspired by Breonna Taylor and presented an exhibition in her honor.
My experience
This was my longest solo trip so far to do the to-do list. I contacted my friend Collin, from college who lives in Louisville to accompany me. We worked together in our college journal, Eastern Progress at EKU, and have been friends ever since.
I traveled up north for about an hour and 30 minutes listening to podcasts of course. Collin and I met up at a restaurant near the museum for lunch and to catch up on us before we finished this item on the bucket list. We arrived at "The Speed" as it is identified by the locals and it was much bigger in person than what I had seen online.
Once inside, we were greeted at the door and signed up to go inside and examine the permanent and public exhibits. To say the place was big is an understatement. Everywhere you looked there was some extremely amazing artwork and even the building itself was amazing to see. Each room featured a new type of art exhibit and the medium in which it was displayed. In total, Collin and I spent about five hours in the museum admiring everything. I'm pretty sure there was something we didn't see in everything there was to see.
I'm not sure if anyone reading this understands this, but I am a strong supporter of historical signage and markers that let people know what they are seeing. I can't tell you how frustrating it can be to try to get accurate historical information without markers. However, The Speed ​​was not lacking in information. Each painting or work of art had a sign with the name of the work of art, when it was created, the name of the artist, the dates of birth and death, and what the work of art was meant to represent. It was fascinating.
To be completely honest, I really don't know if I have a favorite exhibit that was on display. Each was intriguing in itself. I thought the Kentucky Art Hall would be my favorite, but I'm not so sure. Like I said, every show had something new to enjoy. I really enjoyed seeing the work of Rembrandt and Picasso. The early European arts were extremely detailed and being able to see the artists' brushstrokes and marks was something I loved.
In addition, I really enjoyed the exhibition of ancient art. Here we were able to see a Roman and Egyptian sarcophagus. There were also various charms, urns and tablets which were explained in detail.
After my recent experience seeing Rebecca Redd's painting by Kentucky artist Matthew Harris Jouett at a Madison County Historical Society reunion, I was delighted to see her other works again, as well as Oliver Frazer. I can never get enough of Kentucky art and celebrating those who created it.
As I say in all of my bucket list adventures, if you have the chance to visit The Speed, GO! There is something for everyone, and it's free! Great food and other experiences are close by, and it's really something to see this art and learn something new. Again I really had more fun than I expected and would highly recommend visiting this museum to anyone.
The Speed ​​is open on Friday from 1 p.m. to 8 p.m., Saturday from 10 a.m. to 5 p.m. and Sunday from 10 a.m. to 5 p.m. For more information, visit speedmuseum.org.
[ad_2]