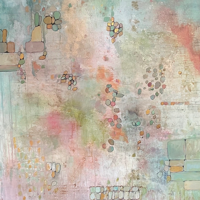 An Eclectic Mix: The State of the Art Gallery's Annual Jury Exhibition | Art
[ad_1]
ITHACA, NY – December and January traditionally bring group shows and holiday sales to major galleries in Ithaca. Along with exhibitions at the Gallery at South Hill, the Ink Shop Printmaking Center, and the Community School of Music and Arts, this year's Annual Juried Show at the State of the Art Gallery (SoAG) features various works in media and approach. The national open-call exhibition, which runs until January 2, was judged by members of the gallery, with Rick Pirozzolo of the Arnot d'Elmira Museum as the judge of the award. Each artist is represented with one piece.
Not surprisingly, the era of the pandemic brings a new wrinkle. While last year's edition was entirely virtual, this year's edition is attempting an undeniably clunky in-person / in-line hybrid model. While all accepted artwork is "shown" on the gallery's website, a number of works – most originally in traditional physical media – are not physically present in the gallery. Instead, a screen displays the missing works, including four of the five winners. (The show, usually for such an event, was judged from digital images.)
Those of us who enjoy seeing art in the flesh will be disappointed. Nonetheless, there is a lot of interest to be seen at the West State Street gallery location. The mix of Ithacan and national artists is a point of particular interest.
Several artists here will be familiar to local art lovers. Barbara Mink, a former SoAG member, contributes to "Gorge Walk Spring," an abstract canvas in effervescent ink and signature layered acrylic. Using similar media on paper, local poet painter Laura Glenn offers a poetically indecipherable scriptorium in "Unriddling". Marjorie Hoffman's sculptural "Chrysanthemum" mosaic is distinctive and playful – bringing us closer to her flower.
Three smaller oil paintings are among the most engaging pieces here. Annemiek Haralson's "Storm Over the Plains" has its merits, with its purple-blue alien clouds looming against a shaded horizon and a grassy expanse in the foreground. Lined in pale pink, two lightning branches form the perfect accent. Rendered in red and purple, James Cogbill's "Transition" is notable for its blend of architectonic abstraction and conscious painting texture. In ocher, white and purple, Julie Waltz-Stalker's "Bury it Deep" is another lavishly painted non-figurative piece – more outgoing and layered.
Carol Spence (Full Disclosure: One of my former art teachers at Ithaca High School) presents "Spring Break," rendered in mostly pale hues and incorporating acrylic, monoprint, and pasted magazine text. The piece, characteristic of Spence's locally exhibited work, participates in what might be considered a New Age update on turn-of-the-century symbolism: a mysterious female figure, vaguely pretentious imagery, colors and patterns. mismatched textures.
Watercolors, drawings, prints and illustrations have a more understated but sometimes very convincing presence. Sam Vann's watercolor "Prince Edward Albatross" is perhaps the most memorable of several animal-themed works on paper: the bird's white body is silhouetted against the realistic detail of earth upon which it rests. Anna Pausch's black-on-white woodcut "Mums Gone Wild" is both effusive and precise. "Kamani Tree at Makua Study no.36", a digital rendering by Stephen Yuen, has the punchy color separation feel of (some) traditional prints.
Teresa Yatsko, who has appeared on several local collective shows in recent years, explores the genre of the "altered book". 'Beyond Her Malignancy', a signature work, incorporates found and manipulated books, which appear to be an original handmade book, as well as stones and pieces of trees. A photographic cutout of a bald, bare-back muscular man posing with arms raised invites viewers into this boxless diorama – full of barely decipherable text and fairytale evocation. There is something kitsch but undeniably compelling about his work.
Recently voted "Best Gallery in Ithaca" by readers of this publication, the State of the Art has long been the city's consummate "average" gallery: middle, middle class, middle class. Always well presented and generally technically capable, members' exhibits at SoAG tend to fall into familiar ruts. A monthly regimen often consisting of two or three person projectors and "themed" group exhibitions seldom showcases the more ambitious members of the co-op with the depth they deserve.
I have, to the chagrin of some, criticized the gallery in this regard in these pages. I stand by these remarks. More generously though, the gallery serves as a sort of foundation for the local art "world": one that offers its members a measure of professionalism and security in a community that rewards art with sentimental but seldom appreciation. through deep understanding or consistent financial sustenance. .
In addition to SoAG's annual jury photography exhibition (this year is scheduled for June), their general jury exhibition (no photo) offers a welcome break for regular visitors. Viewers interested in getting an overview of the varieties of art produced and exhibited in Ithaca would do well to also visit the group exhibitions at the Ink Shop and CSMA, which run until the end of January.
[ad_2]