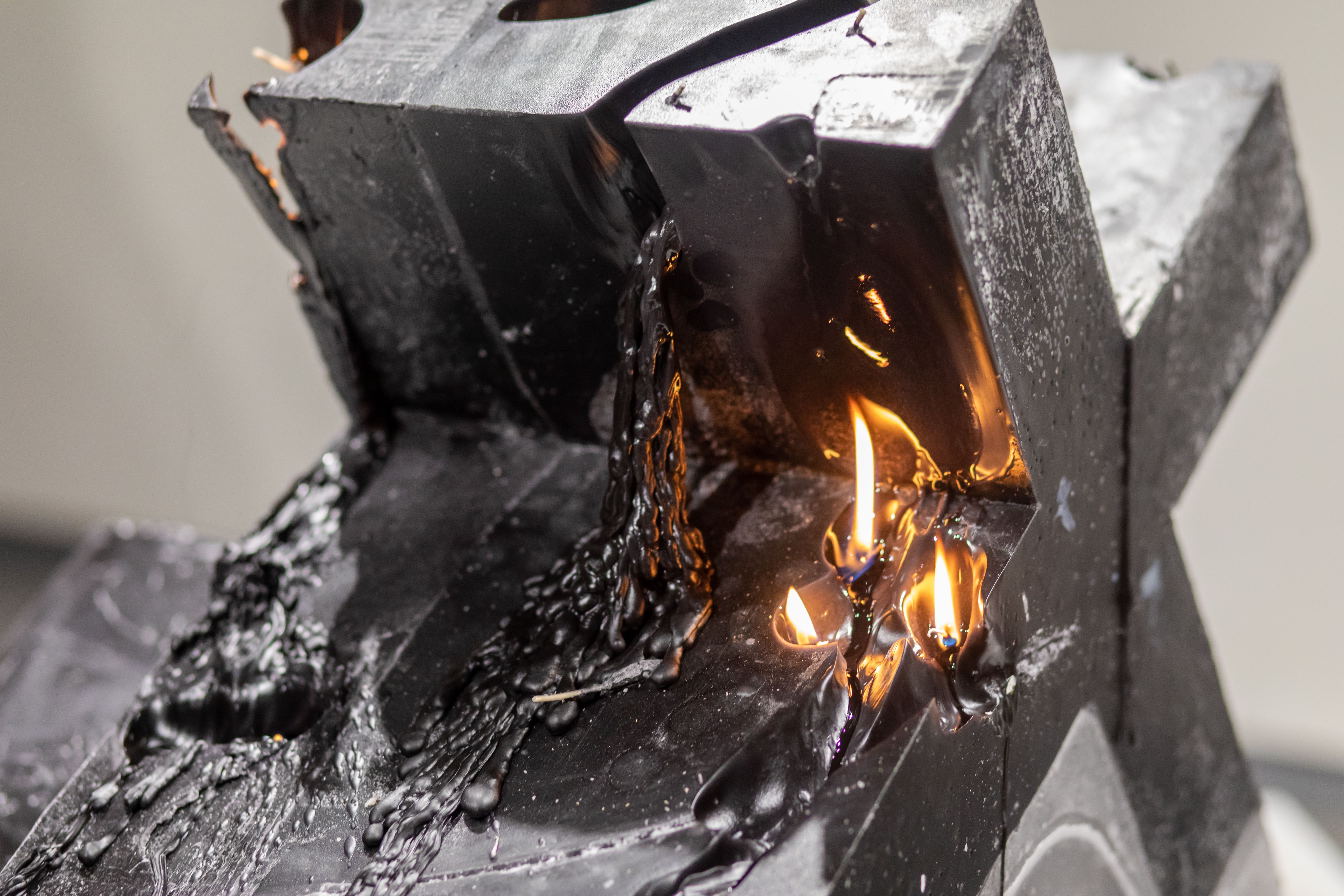 Art Exhibition – Sandy Williams IV: Yesterday
Event details:

Exposure: yesterday background
Exhibition dates: April 1 – May 29, 2022
Co-organized by: Matthew Kyba and Megan Kammerer
The Clarington Visual Arts Center is pleased to announce Virginia artist Sandy Williams IV's first solo exhibition in Canada. Presenting several series of works on two-dimensional and three-dimensional mediums, Williams problematizes the temporal heritage of public monuments by studying the concepts of time, memory and agency.
yesterday background encapsulates a relentless pursuit of public agency in the face of colonial power, systemic oppression, and the growing amnesia of genesis. Each work engages the audience to recognize how we observe and participate in history. Williams finds a balance in tension – combining the untouchable and the malleable, the passage of time and infallible memory, the transparent and the hidden. They invite the viewer to participate in the emancipation of public space by unraveling the structures of power and repression in North America.
To view our current hours of operation and read our latest visitor guidelines, please visit: vac.ca
About the artist:
Sandy Williams IV is an artist and educator currently based in Richmond, VA. Their work is about the persistence of memory, body and resistance, charging the public to act, to generate public and private opportunities for collaborative engagement. They strive to visualize pathways to emancipation from our physical, conceptual, and emotional landscapes. They work both inside and outside institutions to clarify, make transparent, and undo some of the time manipulations and spatial paradigms of oppression that exist in and around us.
Williams' work in sculpture, film, text and public performance inspires functional stories for liberated social spaces in real time. They completed their undergraduate studies at the University of Virginia and earned an MFA at Virginia Commonwealth University in the Sculpture + Extended Media department. They are currently adjunct professors of art at the University of Richmond. Recent exhibitions at Reynolds Gallery (Richmond), de boer Gallery (LA), Socrates Sculpture Park (New York), New Release (New York), Springsteen Gallery (Baltimore), Guadalajara 90210 (Mexico City), 1708 Gallery (Richmond). Residences include ACA (Florida), MassMOCA (Massachusetts), SOMA (Mexico City), ACRE (Chicago), University of Cumbria (UK), among others. Currently exhibiting at the University of Richmond Museum and NADA House with New Release Gallery in New York.
Image: Detailed view of Sandy Williams IV, "Wax Monument VII (Free Wax 2.2)", Wax, Wicks, 2021.
We acknowledge the support of the Canada Council for the Arts.