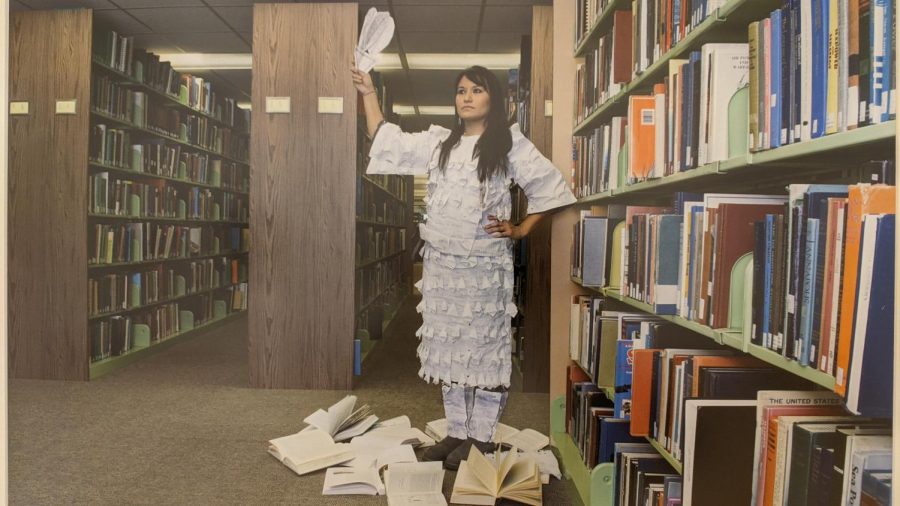 Art museum showcases art by black artists, Indigenous and female perspectives – The North Wind
[ad_1]
The first stop in the DeVos Art Museum is a splash of color ranging from the shiny blue tambourines covered in suede, to the rainbow stacks of painted basketballs, to the giant quilts covering the back wall in pinks, blues and browns.
All of the works in this room are part of the "Personal to Political" exhibition which focuses on black artists and their interpretations of their own stories and experiences. The exhibition was organized by the Bedford Gallery in California and has been seen nationwide. It will be on view at the DeVos Art Museum until October 31.
"It's impactful to understand that not everyone's story is readily available in a work of art, and so being able to add more voice to the conversation and see more people reflected in the art is impactful. and super powerful and very important, "Emily Lanctot, director and curator of DeVos Museum, said. "I can't imagine there was a time when any of these artists ever had their work in the Upper Peninsula. It's really important and I hope the students are happy to come and experience the show and think about what they see in this work of art.
The artists in the exhibition focus on aspects of their life and history that they consider essential to themselves. The art reflects themes such as music, sports, quilting, and even family photos.
"I just think they come from such a personal place," Lanctot said. "The artists in the exhibition are generous in sharing their personal stories, and it also puts them in a vulnerable position to share this legacy, this story, their personal archives and images."
The DeVos Art Museum has another exhibition in the next room that also focuses on personal stories and perspectives, especially from Women in the UP. The exhibition "Regional Perspectives by Women Artists" will be open until 2022.
All of the works in the exhibit are part of the museum's permanent collection and include works by regional artists, Japanese artwork, Native American artwork, photographs, paintings, illustrations and contemporary drawings. .
The aim of the exhibition is to present the different interpretations of the UP through the eyes of various female artists. Some are more abstract, others focus on portraits, but much of the art showcases the land and landscapes of northern Michigan.
"The landscape or buildings are often reflected in their works of art. They translate what they see or reimagine those experiences they have here in Northwood, "Lanctot said. "Think about how we experience this idea of ​​people or place or what we know about the culture that is here through the eyes of our artists and through their translations. "
One of the pieces in this exhibit is "Textbook Indian" by Leora Tadgerson, Acting Director of the Student Equity & Engagement Center. Her artwork depicts an Indigenous student in a fringed dress made from the notebook paper Tadgerson used to complete her Native Studies degree at NMU.
"A fringed robe is a healing tool for our people. When a person dances for you in this way, they provide physical, emotional, spiritual and physical healing to you, "Tadgerson said. "These pages held the power. We have learned about the struggles, triumphs and obstacles of our people. These classes broke me down and healed me, as they do most people. We each learned about the very complex human experience from an Indigenous perspective, and I just couldn't see these pages getting lost in the recycling.
Her photo is meant to draw attention to how Indigenous people get to know their own people and their history through more Western practices, such as books and lecture halls. It is difficult for Aboriginal people to receive tribal knowledge from their own communities now, as generations before them did.
"When I look at this photo, it helps me refocus and let go of the shame I have of not knowing my language as well as I could," Tadgerson said. "It hits people deeply, realizing that we are dreaming even in a colonized language. I started learning as a second speaker during my first semester in college. I too felt counterfeit. The term Manual Indian seemed very real to me.
Tadgerson's work is one of many powerful pieces on display at the DeVos Art Museum this fall. For more information about the museum, visit their website.
Entrance to the museum is free and open to the public. Current hours are Monday to Friday, noon to 5 p.m.
[ad_2]