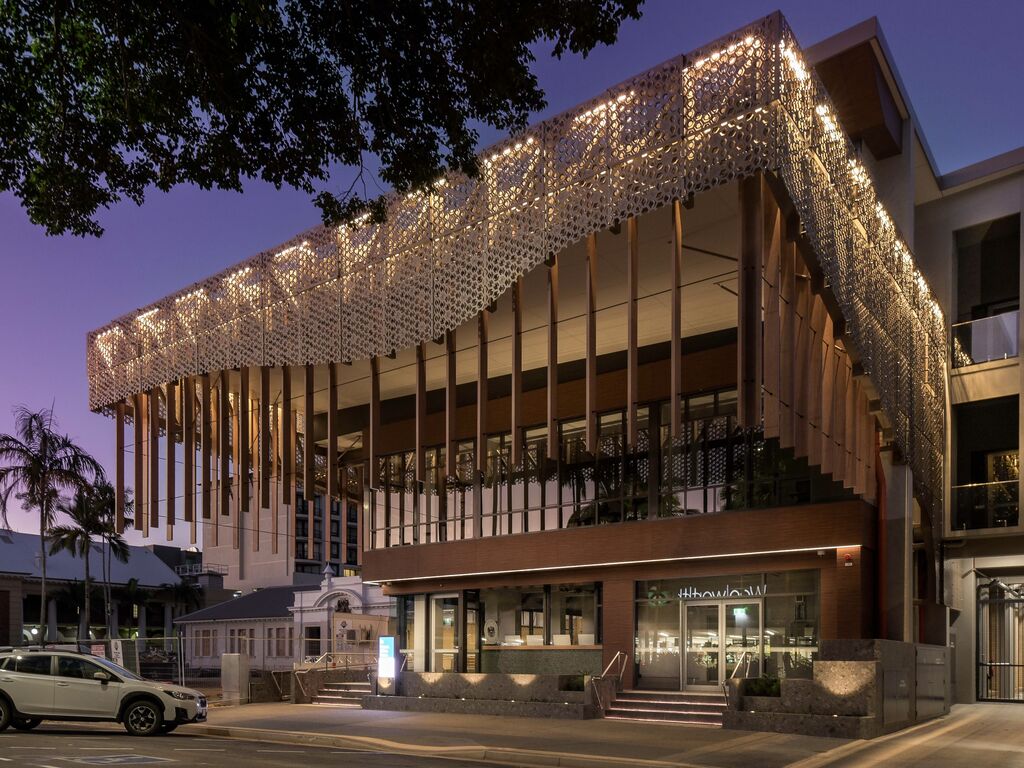 Art Work Spaces coworking building opens in CBD | Tropic now
---
The building's eco-friendly layout includes soundproofed meeting rooms, a range of office spaces, a library-like office room, a two-story vertical garden, lounges, art collections, kitchens and balconies – all available with 24/7 access.
Art Work Spaces co-owner Paul Kamsler – whose parents Dina and Paul Kamsler are known to have built the Tradewinds Hotel-Motel in 1965 and later Cairns' first high-rise hotel, the Pacific International – believes the building imitates a capital concept with a regional city vibe.
"We can give people a real shingle, an address to put on their business card, a presence – and yet they can still work from home or remotely," said Paul Jnr.
"People can rent an office for a month, three months, a day, a few weeks, whatever. You might have salespeople from Sydney or Melbourne or government employees.
"Some will still work at home and we can improve that with our virtual office product. The word is flexibility.
"It's a new concept for Cairns, but it's something that is available in the CBDs of capital cities around the world. It is a sign of the times.
Art Work Spaces community manager Gregor Davie said the new Abbott St hub is a hybrid between home and work.
"It's not just a building with rooms. We are creating a community in which dynamic people from a range of professions, interests and occupations can work with each other, "he said.
"Members will have the best of both worlds: the ability to choose their own schedules and workspace, but with access to like-minded people, social events and networking opportunities.
"We could have talks on Tuesday, yoga mornings or have a drink on Friday night at Wolf Lane next door. "
While the official launch of Art Work Spaces is not expected until early next year, the space is now open to tenants after eighteen months of construction.
To book a free visit, go to space-art.biz, or visit the space at 36 Abbott Street, next to the Cairns Art Gallery.
DISCOVER THE SPACE (S) IN THE GALLERY BELOW: