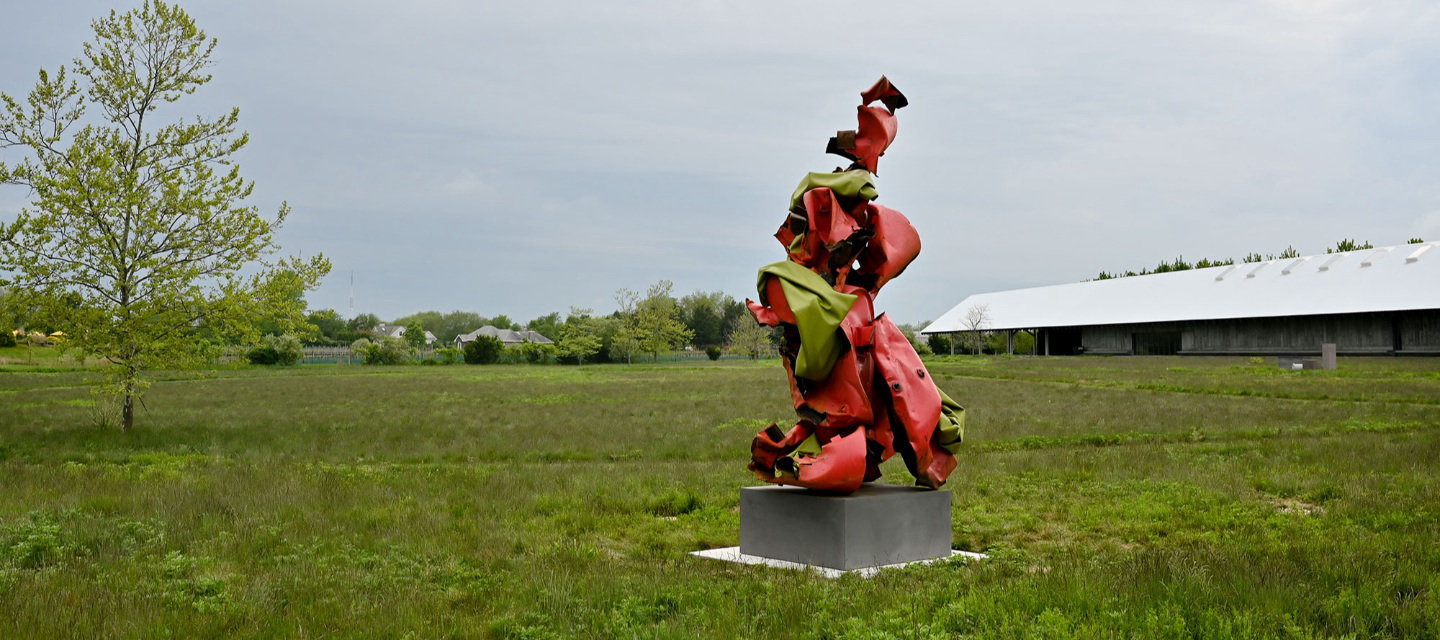 At the Parrish Art Museum, Mickalene Thomas and Racquel Chevremont organize a collective exhibition that breaks the noise
In the bright, barn-inspired environment of the Parrish Museum of Art designed by Herzog and de Meuron in Water Mill, New York, the group exhibition "Set It Off" features artists who "engage the monumental, the site specific and/or immersive.This trio of concerns could be taken as summarizing the practice of architecture – monument, place, environment – ​​and the work produces, within a distinctive and well-known building, its own spatial relationships.
Across four halls and an outdoor space, the show's attention to each of its moments feels like a series of one-and-two exhibitions. But as a whole, it is part of a narrative that considers the experience of being situated in a body, a family and a world.
Torkwase Dyson gives a restrained account of place, expressed through formal geometry and a subtle concern for the built environment. His non-Euclidean studies play with different thicknesses of paint. "What's new to say about monochrome? the paintings initially seem to pose, approaching the question from multiple black angles on the same canvas. Overlapping rectangles and bursts of quasi-diacritical white marks suggest all the ways a surface can be aware of its edge, like how a person in a room can always be half-aware of where the door is. and how to get there.
Thus, some canvases acquire an architectural dimension. They are like blueprints or renderings of future and past buildings, though they sublimate this suggestion of habitation in deep slicks of glossy black paint. In The Horizon 01 (2017) and The Horizon 02 (2017), the paintings' spatial awareness extends beyond the rooms and out to the wide exterior, much like the tall windows set into the gallery walls reveal the surrounding landscape, green-gray and whipped by occasional rain the day I visited.
Dyson's paintings delve deeper as you look at them while across the room, Kameelah Janan Rasheed's work also takes long thought to allow bits of torn language to fit into a new meaning. It is perhaps in this corpus that the show's claim to take the spatial into account must go the furthest, but space is here formulated according to language. The diacritic – a ghostly presence in Dyson's work – is a way of thinking about the role of different elements in Rasheed's wall installation, which presents a numbered progression from silent video to deconstructed painting.
The repeated phrase "I'm not done" stencilled on the wall suggests a language with its own temporality, reformulating itself through the avatars of bodies and gestures. The silent mouth of the video states something urgent and impossible; its loop is never heard and never done. The waterlogged saturation of the paint on overlapping scraps of paper is quite different from Dyson's layered blacks but also evokes a navigable space. The use of pigment runs the gamut, from typographical language to mute blobs and drops: anything that can be done in an attempt to communicate, but with uncertain results. Likewise, the teeth and tongue of the video, multiplied, suggest the curious overlapping of concrete and abstract, flesh and phoneme from which language is produced.
In another room, the flesh is threatened where the works of Kennedy Yanko and Karyn Olivier clash and reflect. In Yanko's monuments to the antimonumental, industrial components are crumpled, distorted and then embraced by a skin of paint, whose soft surface reveals less of the catastrophe that threw them together. It is an apocalyptic aesthetic of impact whose embrace transmits the tenderness of the aftermath. Suspended above the ground, the sculptures draw attention both to the weight of their materials and to their unexpected lightness, vulnerability made ultra-concrete.
There is also in Olivier's work an ambivalence between embrace and threat. An asphaltic substance usually used as tar roofing engulfs or cocoons photographs of unattractive fragments of urban assemblages: corners of buildings with walkways on which tiny figures slump on benches, a downed tree surrounded by drab houses, piles of bricks with seemingly discarded clothes. These images might have a private meaning, or they might as well mean nothing, but now, encased in tar, these vignettes suggest convergences between accident and intention; turns of feeling, light or perception, and fleeting sensations of home. In the middle of the gallery, How many ways can you disappear (2021) is a bunch of ropes, lockers and buoys. With tarmac photographs all around me, I thought of the artist as a fisherman of moments, immersed in an anonymous urban ocean. But on reading the work, I discover that Olivier herself had cast her mind further, thinking of the sea salt exchanged for slaves in ancient Greece. Like the juxtapositions of photographs, both strange and banal, commerce and domination produce surreal equivalences that structure daily life.
These two pairs—Dyson and Rasheed; Yanko and Olivier — are where the thoughtful curation of Racquel Chevremont and Mickalene Thomas (Deux Femmes Noires) is most evident: the placement of the works uncovers assonances that refract through each. Artists February James and Leilah Babirye are assigned an entire room each, where the tempo of the exhibition slows down. Babirye's sculptures are complex couples in themselves. They bring together the aesthetic traditions of Kampala, Uganda, where she was born and raised, and the debris found in her current New York home; they unify the experience of being African and the experience of being gay; they combine traditional sculptural techniques with modern materials suggesting different forms of technical mediation. The wooden figures are tangled with flattened pop cans, wires, bicycle chains, pliers and bolts.
James' paintings and sculptures are full of people: visible and invisible, self and other, living and dead. The entire book titled These are my ghosts to sit with resembles a theatrical setting in which the spirits perform as themselves. One wall is lined with expressive, exhausted faces in black and white, tiny webs with thick drops of flower-like fruit impasto. Paintings of women hang on other walls like icons of the Virgin Mary. A large-scale portrait highlights James' attention to the gaze: there are yellow-tinted eyes in an exaggerated close-up, imperfectly combed eyebrows, and a third eye lurking like an afterthought under a coat of paint on the forehead.
More Icons of James: Ten striking works on paper feature faces in which layers of watercolor and ink create remarkably precise expressions and provide the distinct contours of personality. These faces, never seen before, are deeply familiar. The room is a place where they can all meet. The furniture appears to have developed pigmented mold, like dried ectoplasm. There is a yellow-paneled armoire with a haloed woman at its center, and an unoccupied table and two chairs on which invisible ghosts sit either side of a playful vase of fake flowers.
Whether it's a room, a city, a nation or a language, the self – as the deeply personal works of "Set It Off" suggest – is always inflected by its location. The task is to find entry and exit routes.
Subscribe to the Cultural newsletter
Of course, we can be close friends. Unfiltered access awaits.