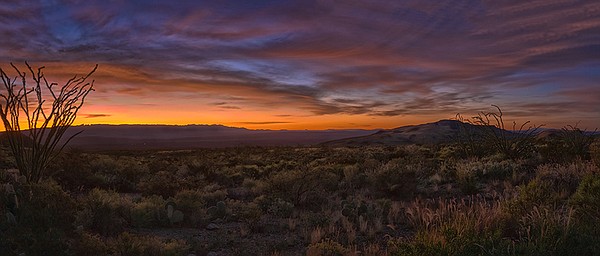 August exhibition announced at the Justus Fine Art Gallery
[ad_1]
The August exhibition at the Justus Fine Art Gallery contemplates nature and connection with a selection of new ceramic works by Michael Ashley, photographs by George Chambers, paintings by Tony Saladino and watercolors by Michael Reagan, according to one Press release.
Additional work by Robyn Horn, Sandra Sell, Gene Sparling and others will also be on display during the exhibition.
A reception will be held from 5 p.m. to 9 p.m. on Friday as part of Gallery Walk. The exhibition will run from Friday to August 31.
Growing up in Springfield, Missouri, Ashley "spent her childhood playing in rivers, streams and exploring the intricate landscape of the Ozarks," a press release said. After graduating with a bachelor's degree in painting and ceramics from the College of the Ozarks, Ashley completed a one-year residency at Tainan National University of the Arts in Taiwan. He received his MFA in 2010 from the University of Mississippi and currently shares his expertise teaching at the College of the Ozarks in Branson, Mo.
Using atmospheric methods like wood, salt and soda, his ceramic work reflects aged and weathered skin reminiscent of historical artifacts. "I strive to create opportunities for people to pause and reflect by adapting functional and utilitarian handmade objects into moments of serenity and meditation," Ashley said in the release.
"My work is inviting to touch, like a stone torn from the bed of a river. I love pots that are smooth in the hand but have a natural and sturdy beauty. I observe constant erosion and evaporation occurring. by the river. I'm looking for layers of visual depth that combine shiny, matte and ashy, cracked surfaces to recall this geological wear … "he said.
A selection of landscape photographs by Chambers, most of which are from Big Bend National Park in Texas, will be on display at the August exhibit. Chambers chooses to focus on the landscape in an attempt to "look under the symbolic language with which we overlay the world and glimpse what is there".
"Place a small human face somewhere in the landscape and the eye will find it immediately. Any text in the scene and the eye wants to read it. By avoiding these symbols, I try to create a blank slate that is still visually vibrant, leading the eye into ever deeper levels of texture and detail. If the viewer connects to the image, they project their own feelings and meanings onto the piece. I offer this nice piece of chaos that I found there, "Chambers said.
Chambers graduated with a BA in Commercial Photography from the Brooks Institute of Photography in California and currently has an active studio in Little Rock. His work has been included in a series of group and solo exhibitions, including Beyond Symbol (solo exhibition) at the Baum Gallery at the University of Central Arkansas at Conway in 1999; Small Works on Paper (2003, 2002, 2001, 1998) organized by the Arkansas Arts Council; Visual Anthropology: Welcome to Our Neighborhoods (group exhibit) at the Laman Public Library in North Little Rock.
A selection of Reagan's watercolors "paintings of tranquility" will be on display at the August exhibition. "As a highly respected artist and illustrator, Reagan's work is included in many notable collections," the release said, including The Map and Atlas Museum in La Jolla, Calif. (The museum has 225 of Reagan's original maps ); The Library of Congress; the National Park Service; the national zoo; The Peace Corps; Nature conservation; Tampa History Center; The National Archives; the San Diego Zoo; Alleghany Trail Alliance; Heifer Project; Unlimited ducks; Jane Katcher Collection of America; Florida Wildlife Initiative; Napa Valley appellations; Guild of architectural design; More free gallery; Christie's; Patagonia ; The Coca-Cola Company; McDonalds; and American Airlines.
Clients have included National Geographic, Smithsonian, The New Yorker, Audubon, Outside, Harper's, On Earth, The New York Times, Los Angeles Times, Washington Post, Wall Street Journal, Architectural Digest, Travel & Leisure, Orion, Bon Appétit and South Dakota Magazine.
Reagan has also worked with book publishers including Doubleday, Time-Life Books, Little Brown, Harcourt Brace, Vintage Books, St. Martin's Press, Chronicle Books, Bloomsbury Children's Books, McGraw Hill, Avon Books, and Marshall Cavendish.
Exhibits of Regan's paintings have included Gallery C, Raleigh, NC (2020 solo show – "Falling"); La Jolla Map and Atlas Museum in California; and The Grovewood Gallery, Asheville, North Carolina (solo exhibition 2018). Reagan was born in El Dorado and received a BA in American Art and Literature, as well as an MA in Fine Arts from the University of Arkansas. Reagan served in the US Navy and then in the Peace Corps in Côte d'Ivoire in West Africa. He has worked as an artist and illustrator for over 40 years. He and his wife, Christine, also an artist, currently live with their dog, Becky Thatcher, in the mountains of western North Carolina.
"My watercolors are what I know – the woods, the mountains, the rivers, the lakes, the oceans and the birds. A feeling aroused by a bird calling in the twilight, or the smell of wood smoke on the wind, or the reflection of a hawk passing over water, or the great stillness of the mountains we live in. Rivers. Lakes. Distant camp scenes. Barns. Stillness. Times when time goes by. is arrested. In solitude there is not always peace, but there is almost always beauty and truth, "Reagan said.
Saladino is "highly respected for his expressive abstracts, landscapes, still lifes and engravings," the statement said.
His work has been included in public and private collections, including the collections of Tyson Foods, Bicardi Limited, the Michael and Susan Dell Foundation, the University of Wisconsin, the University of Dallas, the Museum of Art and archeology of the University of Missouri; and the Museum of International Art in Brazil. Saladino has also been featured in The New York Times, Southwest Art Magazine, The Artist's Magazine, American Artist Magazine, The Best of Sketching and Drawing by Rockport Publishers, Enrich Your Paintings with Texture by David Band of North Light Books, as well as numerous other publications. Saladino received a BS from Louisiana State University in New Orleans. The artist currently resides in Hurst, Texas.
"I want each piece to have a spatial energy that compels the viewer to watch. I want the images to be universal enough to be compelling," Saladino said in the statement.
Owned by artist Dolores Justus, the Justus Fine Art Gallery, 827-A Central Ave., is open from 5 p.m. to 9 p.m. on the first Friday of each month in downtown Hot Springs. Hours are 10 a.m. to 5 p.m. Wednesday to Saturday and by appointment. Call 501-321-2335 or visit http://www.justusfineart.com for more information.
Michael Francis Reagan's "Winter Camp VI".
Tony Saladino's "Ode to Joy V".
Michael Ashley's "Vessel".
[ad_2]