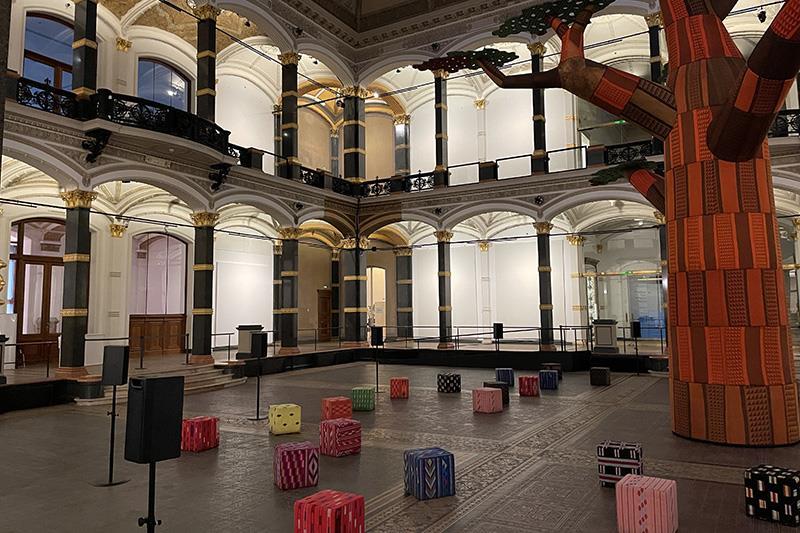 Berlin's Gropius Bau Hosts Art Exhibition, Select Industry Meetings as EFM Kicks Off | News
The Berlinale's online European film market officially launched its business platform on Thursday (February 10), although many sellers have been locked in Zoom meetings since last week.
From February 10 to 17, the market hosts virtual screenings for more than 750 market and festival titles as well as an online lecture program called "Shaping Change", revolving around the central themes of "future", "diversity and inclusive" and "sustainable". development".
A handful of sales companies, mainly those whose films are in the Official Selection, will still be traveling to Berlin in the coming days, and around a hundred European distributors will also be making the trip.
The traditional Gropius Bau market house, which would normally be filled to the brim with stalls and participants, seems eerily empty at the start of the market.
In the absence of a market, the historic exhibition space hosts an exhibition by artist and "visual activist" Zanele Muholi documenting the lives of LGBTQIA+ communities since the early 2000s in South Africa and beyond.
EFM stalwarts who have traveled to Berlin can still meet at Gropius Bau thanks to a festival initiative offering meeting spaces for industry professionals looking for a place to meet face-to-face .
Other key hangouts will be the homes of the traditional Hyatt, Marriott and Ritz-Carlton hubs, although there are no official sales offices at any of these hotels. The French export body Unifrance, for example, is based on Marriott.
A handful of sales companies have also opened their own private offices. The Match Factory, which manages the Competition titles Rabiye Kurnaz vs. George W. Bush by Andreas Dresen and AEIOU – A quick alphabet of love by Nicolette Krebitz, booked the Posh Bar on Potsdamer Platz.
Wild Bunch International, which handles Golden Bear contenders Both sides of the blade (a.k.a Fire) and Before, now and then plus special Dario Argento's gala selections Black glasses and Incredible but truesettled in a gallery in Leipziger Street.
Playtime, which manages the opening film by François Ozon and candidate for the Golden Bear Kant's stone as well as Rithy Panh's competition title Everything will be fine, and Sister companies Films Boutique, Be For Films and Film Constellation have privatized the Fitzroy bar and nightclub overlooking the Spree River in Berlin.