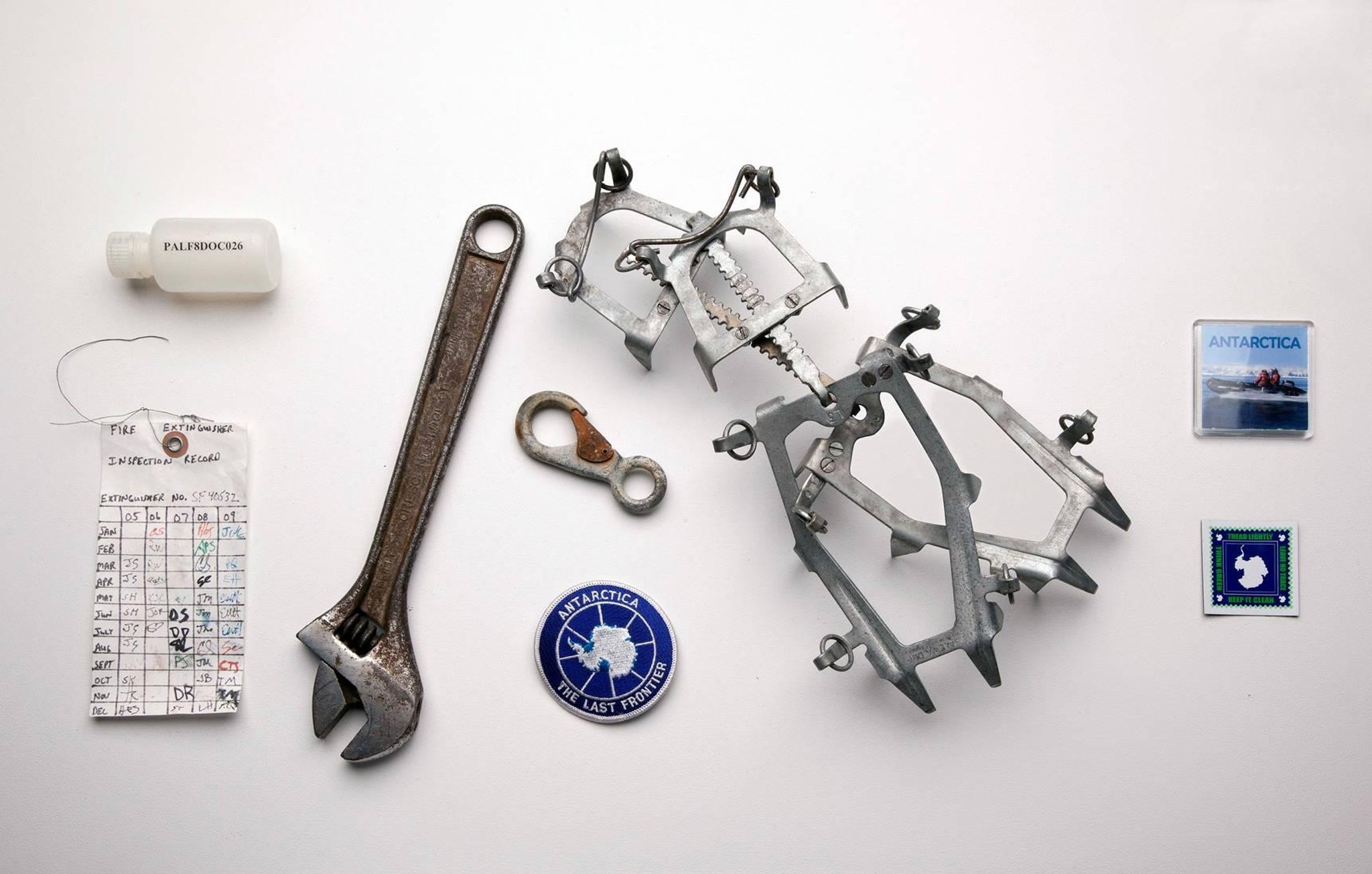 Call for objects to create works of art highlighting environmental concerns
[ad_1]
Amy Balkin et al., 'A People's Archive of Sinking and Melting', (2012-ongoing), Anvers Island, Antarctic Collection (Neus, Burns, Kovats). Courtesy of the Archives.
A jar of toothpaste, a broken cell phone charger and a stranded dollar are to appear alongside natural coastal debris in a work of art examining the threats posed by climate change.
People living in vulnerable coastal areas of Scotland are invited to contribute to the exhibit, scouring places threatened by rising seas in search of eye-catching items that could be included. The curators of the exhibition hope that people living in endangered areas such as the Hebrides, the Northern Isles and the Firths of Forth and Clyde will participate by sending the objects they find to the Edinburgh Art Gallery where the exhibition will be presented in January.
A People's Archive of Sinking and Melting – started by American artist Amy Balkin in 2011 – is an ever-evolving dossier of looming threats posed by climate change.
The participatory collection of objects will be part of an exhibition called The Normal. Members of the public can send any item they find in a threatened location – debris, wreckage or jetsam – to the gallery as long as it weighs less than 225g. Gallery staff will arrange and display the objects with the artist's advice. After the exhibition closes on April 10, the objects will be passed on to Ms. Balkin, who will add them to the archives, which now contain objects from six continents.
Read more
Read more
Read more: Bonnie Prince Charlie's £ 1million painting in Edinburgh Gallery 'No …
Along with artefacts found in the natural world, the archive already includes everyday items from areas such as Antarctica, Venice and New Orleans, including a tube of toothpaste, a broken phone charger and a US dollar. Each has been caught in places ravaged by rising sea levels, melting ice, flooding, drought and other forms of extreme weather brought on by climate change.
The gallery will continue to collect artefacts for the archives ahead of the 2021 United Nations Climate Change Conference (COP26), to be held in Glasgow in November after being postponed this year.
Tessa Giblin, director of the Talbot Rice Gallery at the University of Edinburgh, said: "Many objects have already been collected around the world and images of these will be presented as part of the archives to raise awareness the number of places that are sinking. and melt. We will show the archives and explain why Amy Balkin created them, but we also say to the public "You can participate".
"I like the idea that a gallery actively participates in the creation of art."
Conservatives are also happy to accept items from inland areas threatened by the effects of climate change. The Normal, which opens at the Talbot Rice Gallery on January 29, features a range of perspectives from established artists on pressing global concerns. It was developed in response to what Tories are describing as the 'wake-up call' from Covid-19.
Items can be sent to Gallery, accompanied by a form explaining their origin, which can be printed or completed online.
A message from the editor: Thanks for reading this article. We depend on your support more than ever, as the change in consumption habits caused by the coronavirus is having an impact on our advertisers.
If you haven't already, consider supporting our trusted and verified journalism by purchasing a digital subscription.
[ad_2]