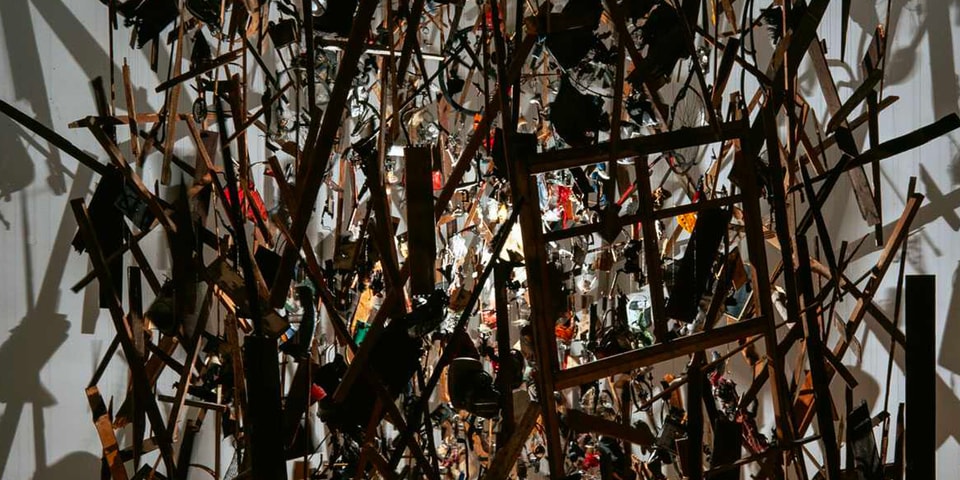 Cornelia Parker Tate Britain Art Exhibition London
Cornelia Parker likes to think outside the box. Instead of being limited to pencil or paintbrush, the British visual artist has used everything from dynamite to steamrollers to create mind-numbing works of art that comment on a range of social issues – from the perils of war to the climate emergency.
Tate Britain presents a selection of works spanning its immersive installations, including Thirty silver coins (1988–9), Cold dark matter: an exploded view (1991), Crisis unit (2015) and Magna Carta (2015), as well as lesser-known studies of film and embroidery, drawings, prints and photography.
Perhaps his most revered work, Thirty silver coins (1988-1989) was particularly inspired by early cartoons, such as Tom and Jerry and looney tuneswhere objects and characters are regularly shattered into humorous proportions.
Parker added:
Money is commemorative, objects are landmarks in people's lives. I wanted to change their meaning, their visibility, their value, which is why I flattened them, delivering them all to the same fate. As a child I used to smash coins on a train track – you couldn't spend the money afterwards but you kept the metal shards for themselves, as imaginative currency and as physical proof of the destructive powers of the world. I find silver coins have much more potential when their meaning as everyday objects has been eroded. Thirty silver coins concerns materiality, then anti-matter. In the gallery, the ruined objects are ghostly levitating just above the ground, waiting to be reassessed in the light of their transformation. The title, with its biblical references, alludes to money, betrayal, death and resurrection: it is more simply a literal description of the play.
In the same way, Cold dark matter: an exploded view (1991) tackles creation through the process of destruction – where Parker worked with the British military to blow up a hangar and proceeded to hang the charred remains – a process likened to a "cartoon death", according to the artist. "Flattening Tom, Jerry filled with bullet holes, Road Runner falling off a cliff. The deaths are only symbolic as the characters always reappear in the next frame," Parker said in a previous interview.
Although disparate in their approach and materials, the process of destruction, resurrection and reconfiguration is central to Parker's work. Discover the full extent of his work as the exhibition is on view at Tate Britain until October 16.
Great Britain
Millbank, London
SW1P 4RG