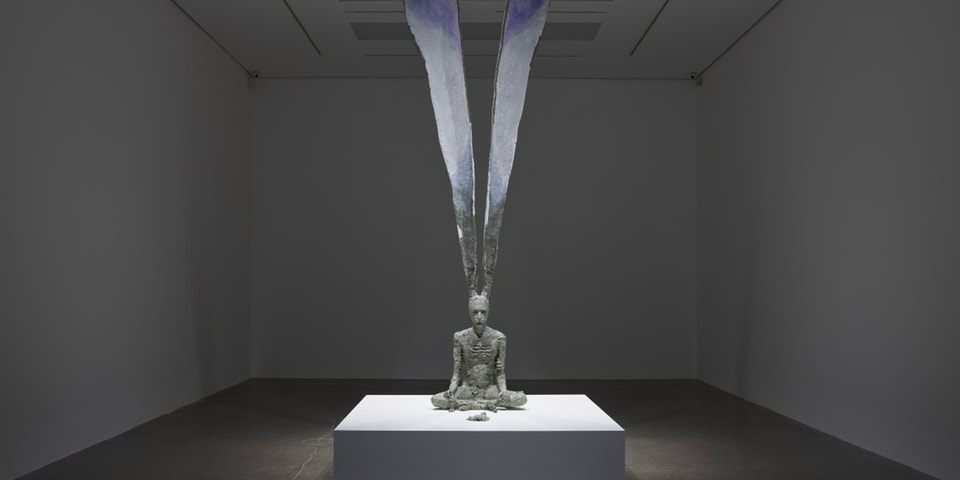 David Altmejd White Cube Art Exhibition London UK
David Altmejd's latest exhibition focuses on the Jungian archetype of the trickster.
Presented at the White Cube in London, the Canadian sculptor invites visitors to see a brooding hare seated ominously in a yogic pose, ears stretched to the edge of space. The inspiration for the show comes from Carl Jung's theory of the collective unconscious, where the Swiss psychiatrist examined the universal themes present in virtually every story of creation across art, literature and religion.
Among the various archetypes, the trickster has resurfaced throughout history – from Loki, the gender-changing trickster originating in Norse mythology; Eshu, the contradictory Yoruba character who navigates between heaven and hell. Likewise, for the indigenous peoples of Canada, known as First Nations, the trickster manifests as a rabbit, raven, or coyote, causing mischief wherever they go.
In his 1998 book, Trickster makes this worldauthor Lewis Hyde likened the trickster to a modern-day artist – "whose main concern is for food and it culminates in the same rapid mental development, skilled at creating and unmasking deception, able to hide his tracks and see through devices used by others to hide their own.
As with most of his past works, Altmejd attempts to free himself from the creative process by presenting a series of mythical busts, each infused with quartz crystals, which, like the yogic figure, transform the work into art in itself being detached from the mind of the artist. Installed on the lower level of the gallery, the plinths suggest an archaeological find or perhaps extraterrestrial specimens from experimentation. The figures are in a way a reflection of Altmejd's personality, offering visitors a glimpse of the exhibition like a multi-faceted psychic self-portrait.
The eponymous show is presented in London until January 21.
Also on the bill, David Zwirner presents Frank Moore: five paintings.
white cube
5-26 Masons Court
St. James's, London
SW1Y 6BU