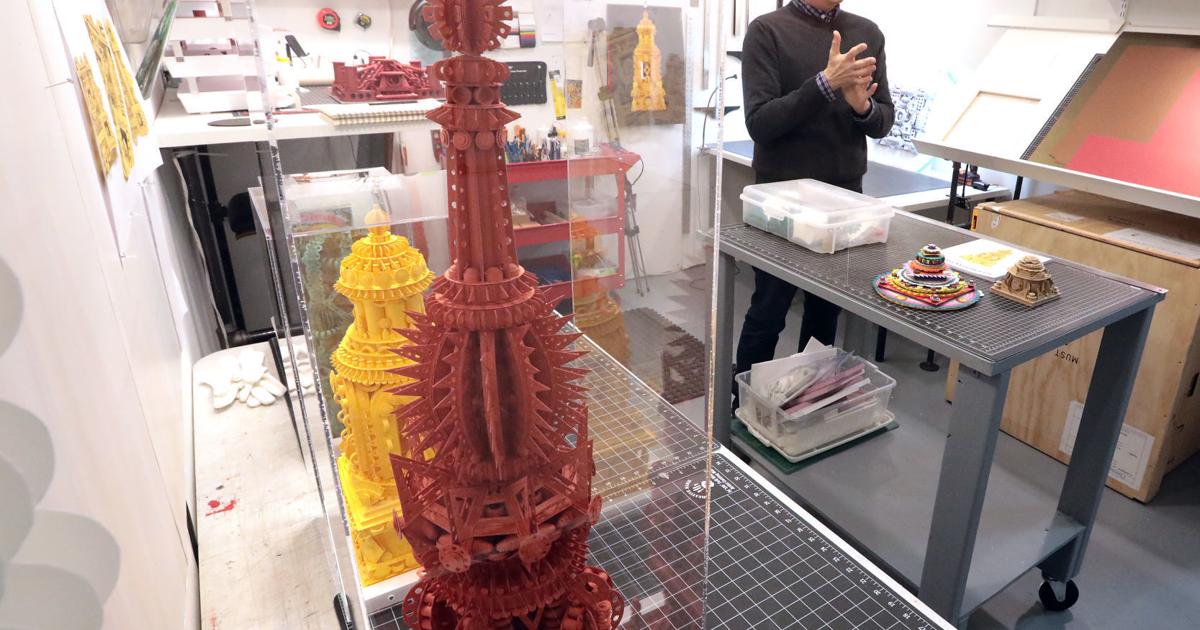 From Art Gallery to Reality TV: Madison Artist Helps Judge Contest | Arts and theater
Velliquette, who teaches visual literacy and creative practice classes at UW-Madison, also earned his graduate degrees there. Over a 20-year career, he has participated in over 150 exhibitions in museums and galleries in the United States, Europe and Asia. In May, the Duane Reed Gallery in St. Louis will present a solo exhibition of his paper sculptures and, a year later, the Umlauf Museum in Austin, Texas, will host an exhibition of his first colorful paper-cut works.
Last year, Velliquette ventured into metal, when he designed the brightly colored panels on the exterior of the new Pinney bookcase on the East Side of Madison.
Velliquette's paper work has evolved over the years. His most recent works are monochromatic, meticulously layered structures that evolve as he creates them. Cut and assembled by hand, the sculptures – evoking the kind of detailed craftsmanship of a small cathedral – each take up to 500 hours to complete.
Making the television appearance on "Meet Your Makers" was a different life adventure, he said. Velliquette flew to LA, where he was officially picked up by an airport hired driver, taken to the studio, and received his own trailer on set. The filming of the show was done under strict COVID protocols.
The "battle of the art of paper! This episode should attract attention – not only from the 18 million users of the discovery + network, but also from hobbyists and skilled artists who are increasingly intrigued by the paper and its limitless potential. Even social networks have put it in the spotlight.