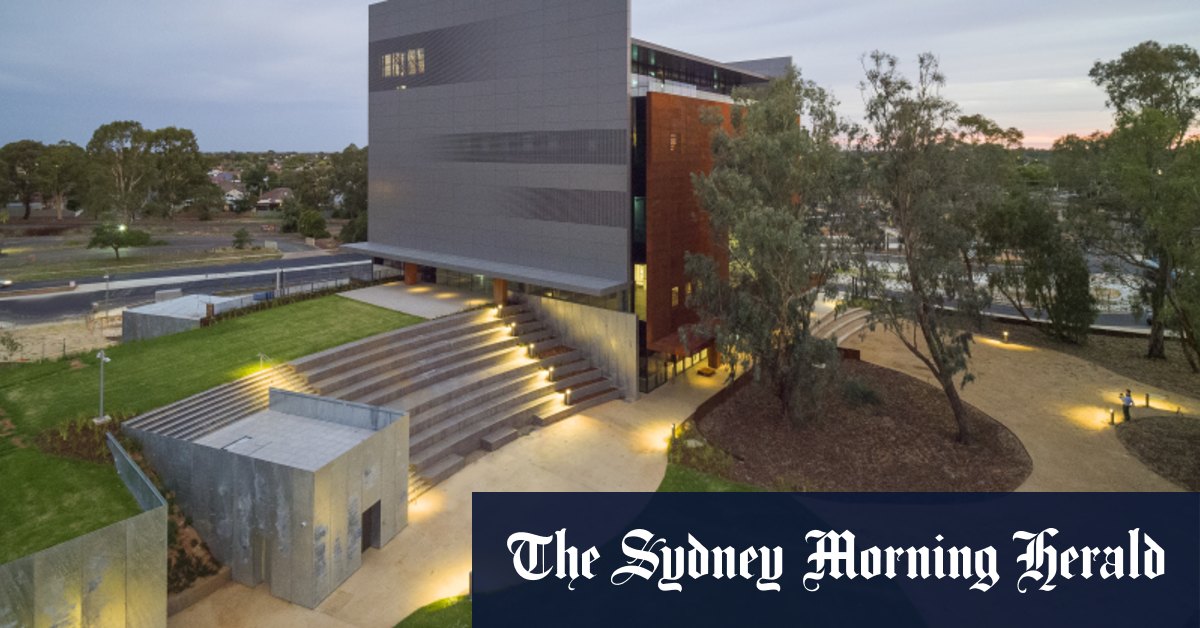 Gallery or sculpture? First Look at Shepparton's New $ 50 Million Art Museum
Gallery launch show Lin responsibility: The earth inside will be the first time that the famous artist Yorta Yorta will exhibit on country. Organized by woman Yorta Yorta Belinda Briggs, Curator – Indigenous and Senior Curator Shelley McSpedden, it includes paintings, prints and sculptures from the 1970s to the artist's death in 1996.
A new ambassador and volunteer program, designed to encourage people outside the arts to get involved with the museum, had a strong resonance, with 50 people signing up. Created with support from the Buckland Foundation, the program was advertised in five languages: English, Arabic, Hazaragi, Dinka and Swahili.
"We have partners who work with multicultural communities and work hard to get out and bring people in. People from war-torn countries, what's the opportunity… we think of the lanes differently," Coates said.
A new artwork by acclaimed artist Yorta Yorta, Wamba Wamba, Mutti Mutti and Boonwurrung Maree Clarke called Connection to the country – I remember when … will also be on display, some of it in large-scale light boxes in the front windows of the building to attract passers-by through the door.
More than 60 artists are featured in To flow: Stories of river, land and sky in the SAM collection including new acquisitions presented for the first time as well as works from the Carrillo and Ziyin Gantner Collection of Indigenous Australian Art.
Amrita Hepi's video A call to echo opens the gallery dedicated to children and is designed to get kids moving, responding to images from the film, dance history and Hepi's own work.
In the forecourt is the gallery's largest work to date, a five-meter-tall sculpture by artist Tony Albert de Girramay and Kuku Yalanji. Called House of rejections, the steel structure resembles a huge house of playing cards with black and white faces. A clean play, it provides a nuanced commentary on race relations in this country.
Coates says it's a timely opening, after the past two years where "we've had all the joy sucked out of our lives." "We haven't been able to travel for two years, and I don't know what the trip will be like … we have first-class artistic and cultural experiences on our doorstep, let's celebrate [them]"Says Coates." Stop looking elsewhere and appreciate and value what we have. "
The Shepparton Art Museum opens on November 20.
Fascinating answers to puzzling questions delivered to your inbox every week. Sign up to receive our new newsletter here.