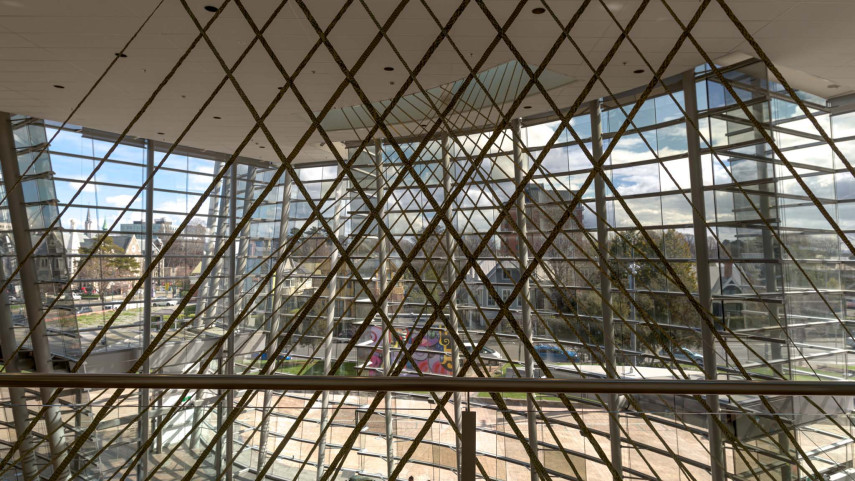 Gallery visitors greeted by new harakeke artwork: Newsline
On your next visit, be sure to look up – a brand new commission from Mata Aho Collective is now descending from the skylights and across the lobby of Christchurch Art Gallery Te Puna o Waiwhetū.
This ambitious installation, Tikawe, is made up of 530 meters of braided strands of harakeke, or flax. This is the first work Mata Aho Collective has created with harakeke, harvesting it from 12 different locations and crafting it over several months.
Curator Melanie Oliver explains that the long braided bands of harakeke are known as kawe and were usually used to help carry heavy loads from place to place.
"Maori people used the kawe to carry everything from kete to stones, materials and even – using a more specialized form known as pīkau – babies," says Ms Oliver.
"The kawe who make up this new commission are a celebration of the strength and importance of harakeke. Mata Aho reinvents this familiar technology through the use of faithful tie-down ties – they consider the common tie-down strap to be the modern equivalent of the kawe and have sewn a ratchet to each whiri braid, incorporating a device of all days familiar to many of us in the work.
Created in 2012, Mata Aho Collective is a collaboration between four Maori women, Erena Baker (Te Atiawa ki Whakarongotai, Ngāti Toarangatira), Sarah Hudson (Ngāti Awa, Ngāi Tūhoe), Bridget Reweti (Ngāti Ranginui, Ngāi Te Rangi) and Terri Te Tau (Rangitāne rāua ko Ngāti Kahungunu ki Wairarapa). Together they produce large-scale fiber-based works that comment on the complexity of Maori life and the contemporary realities of mātauranga Māori. Mata Aho won the prestigious Walters Prize in 2020 and was recently announced as the Arts Foundation Laureate for 2022.
Generously purchased for the Gallery by the WA Sutton Trust, Tikawe will be visible until the end of 2023.