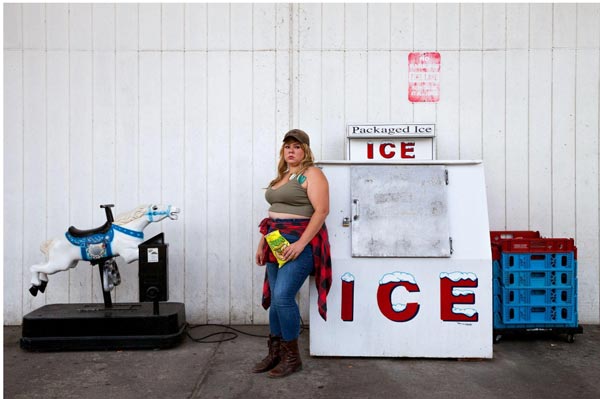 Geneviève Gaignard's new exhibition at the Rowan University Art Gallery confronts racial and gender stereotypes
NEW | FEATURES | PREVIEWS | EVENTS
originally published: 08/05/2022
(GLASSBORO, NJ) — Rowan University Art Gallery present To whom it May concern, a new personal exhibition featuring Geneviève Gaignard. The exhibition runs from September 1 to October 29, 2022. To whom it May concern presents Gaignard's self-portrait, collages and installation, Black white and red all over, which reframes nostalgic visions of American culture. Through her exploration of race, femininity, and class, Gaignard interrogates notions of skin privilege while inviting viewers to take a closer look at racial realities.
Gaignard is a multidisciplinary artist based in Los Angeles who uses self-portraiture, collage, sculpture and installation to spark dialogue around the intricacies of race, beauty and cultural identity. Referencing regional and historical events as well as personal archives as a Métis woman, Gaignard creates environments and performances that oscillate between the symbolic and autobiographical realms.
In his photographs, which are staged self-portraits, Gaignard inserts himself as the main figure into gritty urban environments where race and class boundaries are blurred and nuanced to challenge stereotypes and profiling of race and gender. beauty. Often using familiar objects, styles and accessories, she suggests a particular era, socio-economic class, demographics and race. His poses, often exaggerated, are designed to challenge these stereotypes. As Gaignard explains, "I integrate myself into the work by drawing on my experiences, by implementing soft color palettes, humor and domesticity. My goal is to create environments and experiences that spark critical thinking and provide a shift in perspective. By activating spaces with a haunting nostalgia for America's past as present, I invite viewers to dig into the imperfect relationship between our inner worlds, our public lives, and modern events.
In addition, Gaignard's installation will be exhibited, Black white and red all over. As Gaignard describes it, "Through sculpture and installation, I present reinvented antique furniture, sets and figurines in unexplored psychological spaces. Installation is my channel for creating imaginary domestic environments as sites of sanctuary and resistance. In doing so, I develop the vernacular of found objects and found settings in my photographs and collages. Sculpture allows me to reanimate personifications of society's deference to whiteness into symbols of objection. The scope of my work is a set of visual renderings that affirm Black livelihoods and provoke reflection on the often hostile realities of the outside world.
There will be an opening reception and artist talk on September 15 from 5:00 p.m. to 7:00 p.m.
Advertise with New Jersey Stage for $50-$100 per month, click here for more info
---
Genevieve Gaignard (b. 1981) lives and works in Los Angeles, California and Massachusetts. Since 2019, Gaignard has debuted in six solo exhibitions and has participated in numerous group exhibitions nationally. His most recent solo exhibition, "Strange Fruit," opened with Vielmetter Los Angeles in March 2022 and marks his most ambitious body of work to date, both in scale and subject matter. Gaignard's work has been published in: The Broad, CA; Stephen Friedman Gallery, UK; The Museum of Fine Arts in Houston, TX; The Smithsonian National Portrait Gallery, DC; Los Angeles County Museum of Art, CA; The Getty Center, California; The Studio Museum in Harlem, NY; Massachusetts Museum of Contemporary Art, MA; and Prospect.4, LA. Gaignard earned his BFA in photography from Massachusetts College of Art and Design and his MFA in photography from Yale University. She divides her time between her hometown of Orange, Massachusetts and Los Angeles.
Rowan University Art Gallery is located at 301 High Street W in Glassboro, New Jersey. The gallery is a vibrant cultural destination for South Jersey, the Rowan community and the surrounding region. Our mission is to provide a platform for discussion of best practices in contemporary art by professional artists, curators and scholars through the presentation of interdisciplinary art exhibitions, panel discussions, guest curatorial projects and other public programs. The gallery is open Monday to Friday (10 a.m. – 5 p.m.) and Saturday (11 a.m. – 5 p.m.). Free parking is available in the parking garage on Mick Drive near the Gallery.
PHOTO: Geneviève Gaignard, Vanilla Ice, 2016, Dye coupler print, 24 x 36 in. Image courtesy of Vielmetter Los Angeles and Geneviève Gaignard.
Advertise with New Jersey Stage for $50-$100 per month, click here for more info
---