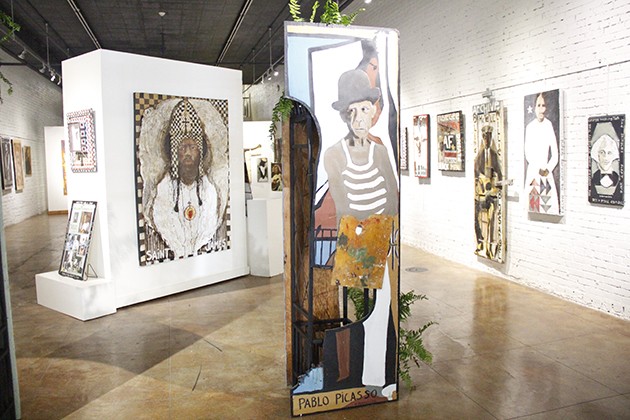 Hemmerling brings original artwork – The Lion's Roar
A tribute to the art legend of Ponchatoula is currently eliciting other local artists and admirers.
The work of self-taught artist William Hemmerling is currently on display at the Hammond Regional Arts Center for their Artist of the Month exhibition.
Hemmerling's showcase, Tribute to the Masters, includes several of his original works dedicated to other well-known artists he admired such as Jackson Pollock, Leonardo da Vinci, Henri de Toulouse-Lautrec, Pablo Picasso and many others.
Tribute to the Masters includes a series of twelve works dedicated to artists he admired. Hemmerling's showcase also includes other works from his "Sweet Olive" series.
Hemmerling's work is known to be filled with enthusiasm, spiritual attributes and a sense of fantasy. It is based on southern folk culture and its love for people and its environment. Some of the art legend's works are very hard to find and the Hammond Regional Arts Center is proud to have him as Artist of the Month.
"William Hemmerling is a legend for our town because he is from here, he called this area his home," said Katherine Marquette, general manager of the Hammond Regional Arts Centre. "We are very lucky to have these pieces on display. No one has seen many of these works due to his passing at an early age, so this is a great reason for everyone to come to the gallery and see them.
As a self-taught artist, Hemmerling created most of his works on found objects such as doors, cabinet doors, sheet metal, and basically anything he could find. He used much of the material he found to help make sense of each piece and represent information in his paintings.
This exhibition will focus on his work that emphasizes Hemmerling's portrayal of jazz and blues musicians, such as his 2006 Jazz and Heritage Festival poster design, as well as his series to honor great artists. the past.
The exhibit had its opening reception on August 5 and runs through Hot August Night on August 26. According to Marquette, some of Hemmerling's original pieces will be on sale at this exhibition.
"This is an opportunity for someone who greatly admired Hemmerling to purchase one of his originals," Marquette said. "We have two originals for sale, as well as several licensed digital copies available for purchase."
The Hammond Regional Arts Center is open Monday through Friday from noon to 6 p.m. More information and dates of upcoming exhibitions are available at hammondsarts.org.