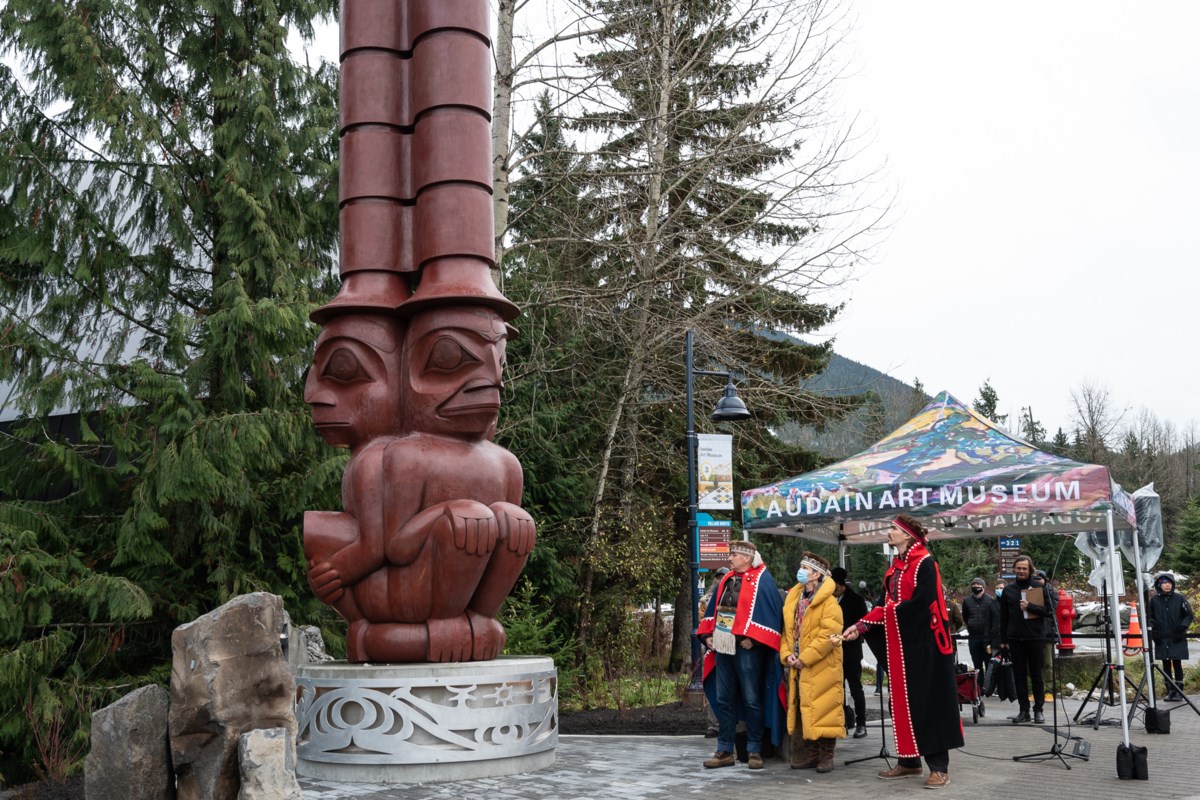 Indigenous artists join forces for a commission from the Audain Art Museum
Haida Chief James Hart, Xwalacktun of the Squamish Nation, and Levi Nelson of the Lil'wat Nation collaborated on the six-meter-high Blackcomb Way
The Audain Art Museum this week celebrated the installation of a major addition to its permanent collection, but the new piece is not located within the walls of the museum.
The six-meter-tall cast bronze statue stands guard at the institution's Blackcomb Way entrance plaza, where it will greet any locals or visitors passing by, whether or not they hold an admission ticket.
The two-part public work, commissioned and funded by the Audain Foundation, was an unprecedented collaborative effort between three renowned Indigenous artists from three different First Nations in British Columbia. The massive sculpture by Haida Hereditary Chief James (Jim) Hart (7idansuu), titled The three watchmen, rests on a concrete plinth surrounded by a band of sculpted aluminum entitled The great flood (Ti A7xa7 St'ak '), a collaboration of renowned Squamish Nation artist (Skw̲xw̲ú7mesh) Xwalacktun (Rick Harry) and Lil'wat Nation (Lil'wat7úl) Levi Nelson (Svpyan).
The coin was officially unveiled to the public during a ceremony on Friday, November 12. Collins.
"Xwalacktun and Jim are seasoned BC artists, and Levi is a booming BC artist, so bringing these three together, I think, makes it unique. "
The technical aspect of bringing this order to fruition also turned out to be monumental, said Collins, thanking the museum's director of operations, Brianna Beacom. "We're sitting on a floodplain, so anchoring a major 8,000-pound (3,630 kilograms) work of art to a floodplain is no small feat of engineering," he says.
For Nelson, Collins' invitation to participate in the project was an opportunity to learn from artists he had long admired.
"Rick Harry has been one of my biggest influences since I was in grade 2 or 3, probably," Nelson recalls on the phone from his New York studio. The Lil'wat Nation artist is currently in his first year of a Master of Fine Arts program at Columbia University.
"I had seen him on Sesame Street, and the next thing you know, he's in my class in grade 3, teaches us how to make Northwest Coast style bears inside a heart for Valentine's Day cards.
Work together on The great flood, he adds, was "a loop moment.
Finished with a red ocher patina and cast in a foundry in New York, the sculpture represents three "watchmen" on the lookout for danger. Similar figures often appear atop Haida totem poles. It serves as a much larger version of The three watchmen sculpture installed outside the Ottawa Art Gallery ten years ago.
The new waterjet-carved aluminum band on its base, meanwhile, depicts a canoe in the center flanked by wave-like eyes, as well as the figure of a wolf drumming in the moonlight of a starry night. The designs are inspired by the pictographs of Lil'wat and the Squamish Nation, Nelson said, telling important stories from each nation's history.
According to Lil'wat lore, most of the animals fled the valley after the Flood, while the few humans who survived lived in a longhouse in Lil'wat territory. As Nelson recounts, these remaining humans held a ceremony in which they began to dance and, in doing so, transformed into animals. All animals now bear the names of the respective humans from which they came.
"The [drumming] wolf figure that I contributed to the play … is essentially half-man, half-wolf. And I wanted to include it because the Lil'wat Nation is descended from the Wolf Clan, "says Nelson.
The concrete and aluminum base designed by Xwalacktun and Nelson means more than just celebrating the common history of nations and adding local context to Hart's sculpture: because the work permanently stands on shared territory and not ceded from the Lil'wat and Squamish First Nations, a piece of another Nation, in this case the Haida, directly on their land would have violated traditional protocol.
As Nelson explains, "Traditionally, if you plant a pole … in another person's territory, you essentially claim it. "
Xwalacktun recalls in a statement, "Levi Nelson and I had the good feeling of working together on this project to demonstrate that The three watchmen is located on our common territory. We have offered some images of the Lil'wat and Squamish territories. Nordic style sculpture does not directly touch our ground.
The piece "represents a new approach to art where three artists from three different nations have come together to collaborate on a piece intended to be exhibited to the public, for reasons of following traditional protocol, but also to present themselves as a symbol of where we are in art today, "says Nelson.
"If I look The three watchmen, I think it's a very historic and meaningful piece that points to that moment in time, where indigenous peoples are starting to have a larger voice in the mainstream, "he continues. "And in a way, I see the three goalies as myself, James Hart and Xwalacktun (Rick Harry).