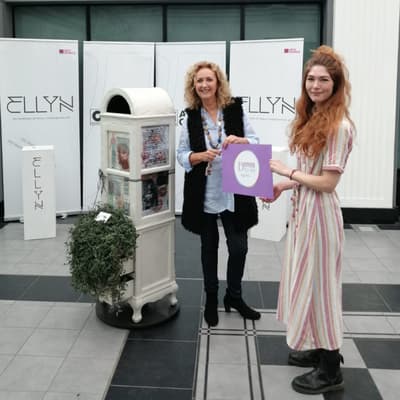 Janet's 'unique and fascinating' artwork
The work of a local artist has been hailed after it was included in a recent major art exhibition.
Janet Corran's entry in the recent 'Ellyn' art exhibition, titled 'The Teacher's Cabinet', has been described as 'unique and fascinating', having been singled out for an award by the UNESCO Biosphere Isle of Man.
Janet's work has received praise for responding to the exhibition brief, which was the impetus for the Isle of Man, its locality, heritage and environment, as well as including the idea of the 'nature versus nurture' debate and the importance of environmental learning for young people.
Janet said she was thrilled to have her work chosen as the winning piece in the exhibition, as it acknowledged and recognized both her artistic work and her work as a teacher.
Janet, a professor of psychology based at the University College of the Isle of Man, created her installation work by rearranging and decorating a disused and ornate cupboard and filling it with curiosities, each celebrating the unique biosphere status of Isle of Man UNESCO.
Inside the cabinet is a small house and a wood, and on the sides and front of the cabinet is an assortment of learning sheets, with acetate on the front that contains handwritten information from Janet, as well as various small inclusions that promote understanding of learning about nature using the environment around you.
"I'm thrilled to win," Janet said.
"This recognition is very motivating because it means that my work has been understood.
"My installation explores how we learn and includes many references from my work in education.
"The Ellyn Record has been a gift to me as it allowed me to immerse myself in my own history and summarize my teaching over the past 30 years."
The Ellyn exhibition ran for three weeks in October and featured the work of 66 different artists who are either based on the island or connected to the island in some significant way.
After the exhibition, the artworks were also published in the book "Ellyn: A Tale of Manx Contemporary Art", which is available in local bookstores.