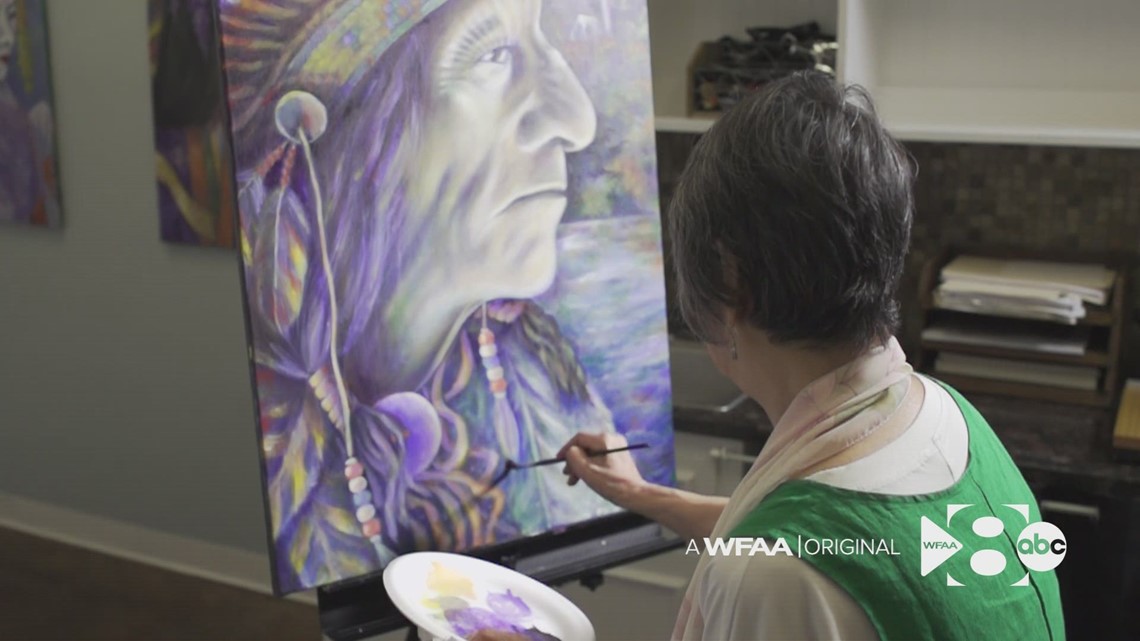 Kumiko Johnson shows art publicly in galleries for the first time
During the pandemic, Kumiko Johnson painted 40 portraits in 60 days. For the first time, her work is now on display in two galleries, both owned by black women.
CARROLLTON, Texas – During the pandemic, Dallas artist, 75, Kumiko Johnson painted 40 portraits in just two months.
"When I work, when I paint, I am alive," Johnson said. "I paint every day. Seven days, I paint from 8 am to 5 pm everyday. I love it."
Johnson was born in China to Japanese parents. His father was an artist. The septuagenarian grew up in Japan and went on to graduate from Tokyo University of the Arts.
She knew she knew how to paint but wanted to put her skills to the test. Johnson moved to New York and got a job in the textile industry. She then got married and moved to Dallas, designing greeting cards.
"I just lived. I took care of () two girls. So I had to make a living. I had to pay bills, so I paint for what people love," Johnson said. "I do what they want, but now (I) change. I do what I want."
Johnson also painted beautiful portraits, including those of Native Americans. Even though she's been an artist for so long, Johnson has never shown her work publicly.
For the first time ever, Johnson's art is on display in two galleries in North Texas, both owned by black women.
Missy Burton and her husband Gregg Young founded Msanii HOUS in 2019.
"My ancestry is Black Indian," said Burton. "And so, when I saw this work, I had never seen anything like it before. It was like we were soul mates.
RELATED: Texas Nonprofit Lights Up Lives During COVID-19 With Solar-Powered Flowers
"Surprisingly, we all got connected, "Johnson said. "So I'm Japanese. But I feel the same as Native Americans because I am human.
Young has designed an app called the Sanaa application to accompany Johnson's gallery. Using the app, gallery visitors scan Johnson's paintings with their phone's camera, allowing the works of art to "come to life." Listeners hear a short narration, detailing the story behind the painting.
Dr. Valerie Gillespie and her husband, Emmanuel Gillespie, have owned a Farmers Branch gallery for approximately two and a half years.
"I think that says a lot for Dallas, but it also says a lot about the support artists have in Dallas and this slow movement towards the representation and portrayal of women of color in spaces," Dr. Gillespie said. .
RELATED: Learn About DMA's Frida Kahlo Pop-Up Exhibits
"There is so much energy in every room," said Dr. Gillespie. "Whatever you watch, you just feel that connection to it, whether it's your culture or not. There is just a vibrancy and a healing feeling that you get when you look at it. "
There is a deeper meaning to this collaboration between the Asian septuagenarian and two black gallery owners.
"I think for me, as an African American woman, I often only see black and white because I'm in it, right? And then recently, with Asian hatred, which is certainly not new either, it is everywhere: implicit bias, racism, it's everywhere.
"It's about lifting each other up," Burton said. "Yes, we are black-owned galleries, but this is art. And the art is beautiful. And the art has a lot of colors.