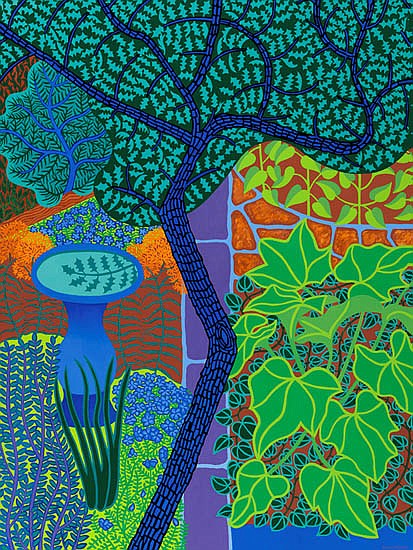 March Exhibition at Justus Fine Art Gallery Welcomes Spring
The March exhibition at the Justus Fine Art Gallery, 827-A Central Ave., will present a nod to spring with a selection of spectacular garden paintings by Susan Baker Chamber, as well as watercolors of nests by Gary Simmons.
Additional works by artists such as Robyn Horn, Sandra Sell, Gene Sparling and Elizabeth Weber will also be on display. The show will host a reception from 5-9 p.m. Friday as part of the gallery's monthly walk through downtown Hot Springs. The exhibition will be on view until March 31.
"My garden is my connection to nature, an ever-changing art installation, outdoor studio, and center for my paintings. It's a humble southern backyard garden resembling a 'crazy quilt' of color and pattern. My major aesthetic concerns are color, space, pattern and composition. Saturated and contrasting hues are used to enliven and flatten the abstract space. The shallow space is full of plants to patterns and hard-edged flat shapes stacked on an upward sloping plane.The composition of the surface is a larger overall pattern.The matte acrylic is applied flat to emphasize these formal concerns.Gardening is hope. I plant natives that attract the birds and pollinators that enliven the garden and pictorial space. My work is an invitation to the viewer to explore the ever-changing space of the garden and reconnect with nature," Chambers said in a statement. s a press release from the gallery.
Chamers received a BA in Art from Rhodes College in Memphis in 1974 and an MFA in Painting from the University of Georgia in Athens, Georgia in 1979. His professional experience in the arts includes residencies for the Arts Council of Arkansas and adjunct positions at the University of Arkansas at Little Rock, University of Central Arkansas and Hendrix College, according to the release.
Chambers' work has been exhibited nationally and regionally, in addition to being included in public and corporate collections, including Carillon Importers (Absolut), Central Arkansas Library System, University of Arkansas Medical System, Southeast Arkansas Arts and Science Center and Systematics.
Recent recognition includes an individual scholarship in painting from the Arkansas Arts Council in 2020, inclusion in the 2021 traveling exhibition of Small Works on Paper organized by the Arkansas Arts Council as well as the jury's selected purchase award for this exhibition. Chambers is also included in the RAM Annual Juried Invitational 2022: Metamorphosis presented at the Fort Smith Regional Art Museum through May 22. Chambers and her husband, George, live in the historic Quapaw Quarter in Little Rock, where they operate Chambers Studio.
"Like so many things in our lives, nests are marvels that we momentarily see and enjoy without ever really considering the miracle that they are. When we consider that these wonderful creations are the product of a beak, saliva, of found objects and intricate construction, it puts many of our human efforts to shame.Intelligent adaptation to environment and circumstances alludes to some time spent at the drawing board.Their function is part of their aesthetics, and it was the aesthetics that interested me in this body of work. I was not pursuing a taxonomic description, but rather a design in space. I took some liberties with the designs , trying to work from a fundamental understanding of what I was looking at," Simmons said in the statement.
"Simmons' paintings of nests reflect the multifaceted artist's lifelong interest in birds and an appreciation for the design and beauty of natural structures. Simmons has received national and international acclaim for his art and in particular for his mastery of pen and ink. He is the author of 'The Technical Pen', considered a 'must-have' for anyone wishing to learn more about pen and ink techniques," says the communicated. Originally published by Watson Guptill in 1992, the book has been republished by Echo Point Books.
In 2001, Gary Simmons received the Governor's Art Award from the Arkansas Arts Council for his achievements as an individual artist. Along with a long history of exhibitions and a long list of public and private collectors, Simmons is also a respected art educator, according to the release. He was professor of art at Henderson State University from 1991 to 2013, retiring with the honor of professor emeritus. Simmons has also taught numerous workshops across the country. He earned a BA and MA in Literature from Southern Illinois University in Carbondale, Illinois, and an EDD from Indiana University in Bloomington, Ind.
The Justus Fine Art gallery is open from 10 a.m. to 5 p.m. Wednesday to Saturday and by appointment. Call 501-321-2335 or visit online http://www.justusfineart.com.