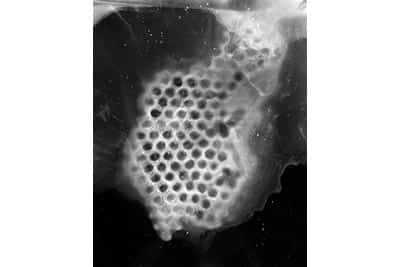 Mary Zompetti's 'The Lost Garden' art exhibition opens August 22 at Bridgewater College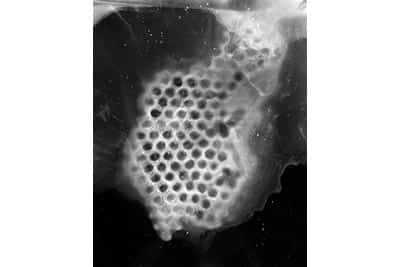 Mary Zompetti, photographic artist and assistant professor of photography at Hollins University in Roanoke, will exhibit "The Lost Garden" from August 22 to September 27 at Bridgewater College. The exhibit will be on display at the Beverly Perdue Art Gallery on the ground floor of the John Kenny Forrer Learning Commons on the college campus.
An opening reception will be held from 5 to 7 p.m. on August 29, with an artist talk at 5:30 p.m.
Zompetti uses both traditional and experimental analog photographic methods to study the earth, the home and the environment. Her recent cameraless photographic work explores the delicate and resilient nature of film emulsion exposed to environmental conditions where she collaborates with light, weather and time to create unique photographs that embrace chance, error and deterioration.
"The Lost Garden" series is created by exposing large format film to environmental conditions for long periods of time. Wind, rain, ice and snow alter the film, leaving impressions specific to time and place.
"My creative process is driven by curious experimentation with analog photographic materials – not in pursuit of the perfect, captured moment, but rather for the possibilities that exist when control is relinquished and chance helps guide both the process and the questions posed by the work," Zompetti said. "This curiosity excites me and pushes me to push the medium further, to see what is possible outside the parameters of traditional photographic processes."
Zompetti earned an MFA from Lesley University College of Art and Design in Cambridge, Mass., and a BFA from Northern Vermont University. She is the recipient of the 2020 Vermont Arts Council Creative Grant for New Non-Camera Analog Photographic Works, funded by the National Endowment for the Arts.
Her work has been exhibited nationally and internationally, including at the Photographic Resource Center in Boston, the Eleanor D. Wilson Museum in Roanoke, the Griffin Museum of Photography in Winchester, Mass., the Mjólkurbúðin Gallery in Akureyri, Iceland, and at the AIR Gallery. in Brooklyn, NY
Zompetti has participated in artist residencies at the Vermont Studio Center and the Gil Residency in Akureyri, Iceland, and his work is also held in several collections, including the Artist Book Libraries at Yale University and the Banff Center for Arts and Creativity.
The exhibition, the vernissage and the artists' conference are free and open to the public.
The gallery is open from 7:30 a.m. to midnight Monday to Thursday; 7:30 a.m. to 9 p.m. on Friday; 9 a.m. to 9 p.m. Saturday; and from noon to midnight on Sundays.