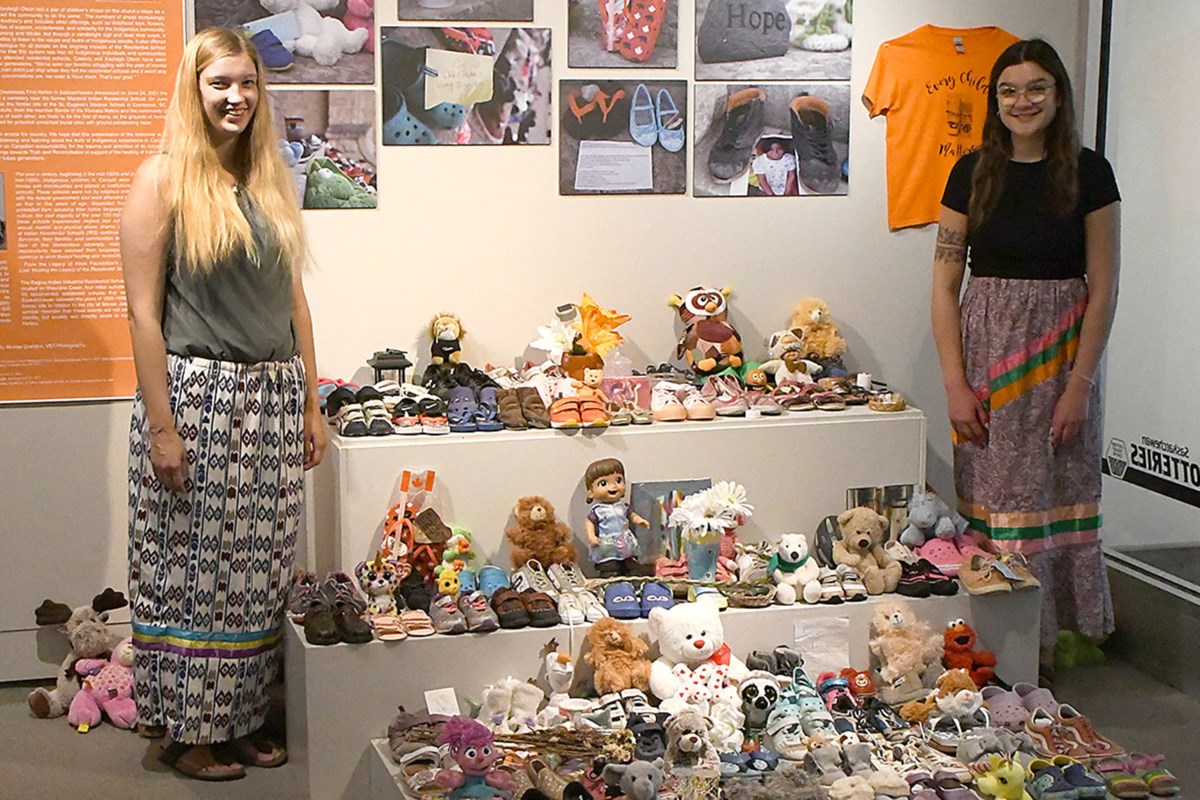 Museum and art gallery featuring artifacts from the former residential school at St. Andrew's Church
More than 500 pairs of shoes donated to MJMAG for a permanent exhibition in the First Nations section
An exhibit that ran for weeks on the steps of St. Andrew's United Church in support of the hundreds of lives lost in the residential school system is now a permanent feature of the Moose Jaw Museum & Art Gallery (MJMAG ).
And that's really appropriate, given the power of the message that was being displayed. Over 500 pairs of children's shoes, stuffed animals, candles, notes and even photos of those lost were left behind by Moose Javians, far exceeding the original goal of 215 – one for each body found in unmarked grave at Kamloops Residential School – secured by organizers and Sisters Cassidy and Kayleigh Olson.
"It was actually really overwhelming at the end of seeing all the shoes, when we visited the steps and saw how many there were, it was pretty powerful," Cassidy said on Sunday afternoon when visiting the new MJMAG screen alongside Kayleigh. "And knowing that so many people had put these shoes on… it was really big."
The duo call the Whitecap Dakota First Nation their home reserve and have direct family ties to residential school survivors. This made the spontaneous act all the more meaningful, especially once the community supported it.
"Myself, personally I didn't even think it would get as big as it would get or that we would hit our total of 215, I was a little hesitant," Kayleigh said. "But I was super thankful that we have shoes just to start and start, and then when we hit around 500, it was so surreal because I never imagined that would happen. And every time we passed by. in the car or that we passed, there were always people who paid homage to us and talked about it among themselves.
"We're just happy to see how well it turned out, especially for Moose Jaw," she added. "We're the kind of community that needs to start moving forward, so I was really happy to see so many people supporting it. "
When the time came to remove the screen, Cassidy decided to contact MJMAG curator Jennifer McRorie to see if anything could be done to help keep the conversation going and keep the message alive.
"She was really quick to come back and said 'we need something that's not just based on the story, we need something that can help educate,'" Cassidy said. "She said to bring the shoes as soon as they were taken off the steps, then she contacted us the next day and said" I think I found a display and I think I found a vision "."
The rest is now permanent history – a large glass display case with hundreds of shoes sits next to an open stand of even more pairs, with photos and information on what it all means and how. it all came together.
"For these kids and their minds, it had to happen," Kayleigh said. "People need to understand the truth and that these schools did not exist not that long ago. It's a chance for people to understand who we are as Indigenous people and why we face all of these social issues and stereotypes that everyone thinks about. I really hope this opens the door to conversations about residential schools and opens many more doors to things that we wear as aboriginal people.
The work the sisters did to promote and support residential school survivors does not end there.
They are currently selling orange "Every Child Matters" T-shirts along with a pair of moccasins that their kunshi – Grandma's Dakota – made shortly after she left the residential school system. They sell for $ 20 each, with all proceeds going to the Residential School Survivors Circle in Saskatchewan.
You can purchase one by visiting https://bit.ly/2U1FbdM.
"(Their kunshi) being a survivor is very important to all of this," Kayleigh said. "We are doing things for her and our loved ones who could not have that voice and be aboriginal. So I like to say I'm doing this for my family and the others in the spirit world who won't be able to do things like this.