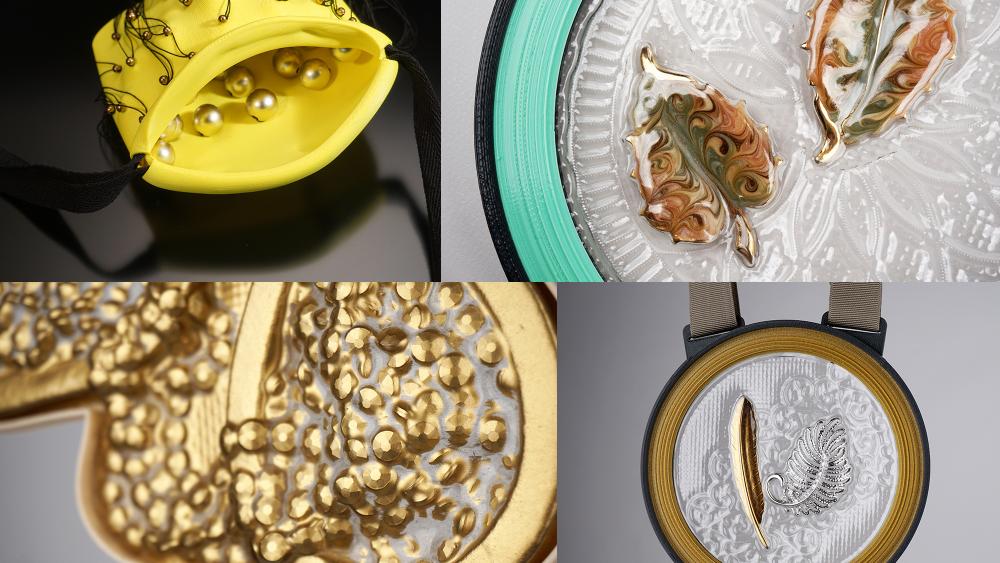 Penn State Altoona to Present "365 Grams" Art Exhibition
[ad_1]
ALTOONA, Pa. – "365 Grams," a series of works by distinguished visual arts professor Rebecca Strzelec, will run Jan. 13 through March 18 at the Misciagna Family Center for Performing Arts at Penn State Altoona. The exhibition is free and open to the public. An evening reception will be held from 6 p.m. to 8 p.m. on Thursday, January 27, in the Titelman study of the Misciagna Family Center for the Performing Arts.
Strzelec is the coordinator of the Visual Art Studies program at Penn State Altoona. She received her BFA and MFA from the Tyler School of Art. She uses 3D printing, computer-aided design, and three-dimensional modeling to create wearable art. His work has been shown in leading galleries and museums in the United States and abroad and is part of the permanent collections of the Museum of Art and Design in New York, the Racine Art Museum in Wisconsin, and the private collection. from the former US Secretary of State. Madeleine Albright. Strzelec is a Penn State Alumni Teaching Fellow and the 2016-17 Penn State Fellow. She co-directs the Center for Additive Manufacturing and Printing at Penn State Altoona.
"365 grams" contains over 70 pieces of wearable items made from or inspired by costume jewelry that Strzelec inherited from her grandmother, Betty Ambrow.
"'365 Grams' is a photo documentation project that captured my Gram's jewelry everyday for a year," Strzelec said. "I wore her jewelry to give the pieces the respect and attention they deserve so that I could redefine, reuse, and respond to them in my own studio practice."
Strzelec will present "Family Jewels: Photographs, Dissections and Recombinations of 365 Grams" from 12:15 to 1:15 p.m. on Thursday, February 10 in the Titelman study at the Misciagna Family Center for Performing Arts. This event is part of Penn State Altoona's Common Read program, highlighting and exploring the themes featured in this year's Common Read selection, "Ghostographs," by Maria Romasco Moore.
The galleries are open Monday through Thursday from 10 a.m. to 2 p.m. and before and during all performances. For more information, call the Misciagna Family Center for Performing Arts at 814-949-5452. Masks must be worn inside all University buildings.
[ad_2]