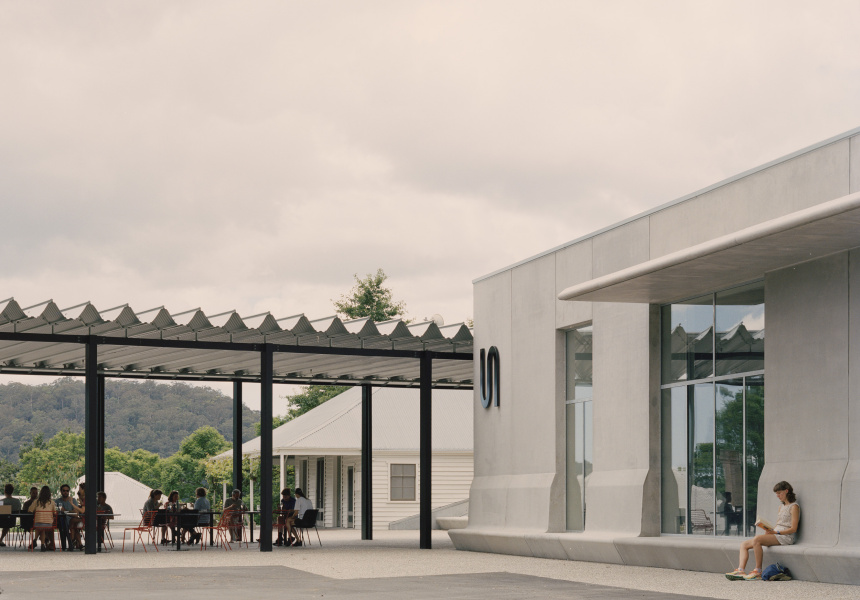 Plan a road trip to the refurbished Shoalhaven Bundanon Art Museum, home to a $40 million collection of paintings by Arthur Boyd and his contemporaries
Four months ago, the Bundanon Art Museum reopened to the public with a new state-of-the-art fire and flood resistant gallery. Its second season, Parallel Landscapes, debuted last week.
The museum, located on a 1000 hectare property bequeathed to the Australian people by painter Arthur Boyd and his wife Yvonne in 1993, has undergone a major overhaul. The government-funded Bundanon Trust – which now manages a $40 million collection of works by Boyd and his family, as well as other members of the Angry Penguins modernist art clique, including Sidney Nolan , John Perceval and Joy Hester – built a new partially underground gallery. to house his works and his new commissions.
The imposing concrete monolith is joined by the bridge – a stunning 160-metre wooden structure that houses 32 simple, elegant rooms and a 64-seat dining room. The new structures are a few miles downriver from the property's existing 1866 farmhouse and Boyd's studio, where the painter lived and worked.
Located on the winding Shoalhaven, a little inland from Nowra, the museum is one of eight national collecting institutions – iconic galleries, museums and media archives charged with preserving the most important cultural works and the most valuable in the country.
Parallel Landscapes is made up of three exhibitions, presented side by side. Arthur Boyd: Landscape of the Soul explores the artist's legacy of landscape painting. The Hidden, a new commission from the Bundanon Trust, is an immersive work of sound and image by Tim Georgeson and composer William Barton that "resonates with the evoked spirits of the natural world". And The River and the Sea is an investigation into the paintings of the late artist Yuin Reuben Ernest "Uncle Ben" Brown, an advocate of Indigenous empowerment as well as collaboration between Indigenous and non-Indigenous peoples.
"We bring together a variety of views on what landscapes or countries might be like," said Bundanon's chief curator, Sophie O'Brien. Large format. "I really wanted to parallel the idea that landscape…can go from an appreciative and joyful 'outdoors' [open-air] instant to the cartography of the territory. It was used in many different ways – ownership, publicity – and we all know that landscape painting played many roles in how it played out in culture," she says.
Landscape of the Soul – curated by Barry Pearce, Emeritus Curator of Australian Art at the Art Gallery of NSW and a friend of Boyd's – tells the story of the artist's way of working, as well as some of his biggest influences , from his home, family and childhood to art, architecture, literature and beyond. It is also the first time in two years that this collection of landscape paintings has returned to Bundanon, after a national tour. "It was our little Bundanon lighthouse while we were closed, so we're very happy to have it back in its new home," O'Brien said.
To accompany the gallery's second season, executive chef Doug Innes-Will, who joined Ramox Cafe in Bundanon in March, has created a signature dish inspired by Boyd's 1993 painting Peter's Fish and the Crucifixion. "Of course Shoalhaven is a great place for seafood," says Innes-Will, "so I'll just say there's going to be quite a bit of seafood, with a particular element of a fish that's tied to Boyd's painting."
In addition to museum and cafe offerings, a series of public programs run alongside Parallel Landscapes until November 6. caring for Country by local indigenous women's organization Waminda. Additionally, Bundanon Writers Week features guests such as forager Diego Bonetto, author Kate Forsyth and children's writer Allison Tait.
For visitors who choose to spend the night at the museum, "it's quite magical to wake up and hear the sounds of the bush and see the river," says O'Brien. At the moment, guests can stay as part of a sightseeing and cultural experience package. "There's also a lot of fantastic silence going on here."
Parallel Landscapes runs from July 2 to November 6. Admission is $18. Weekend admission also includes entry to the farm site.
bundanon.com.au