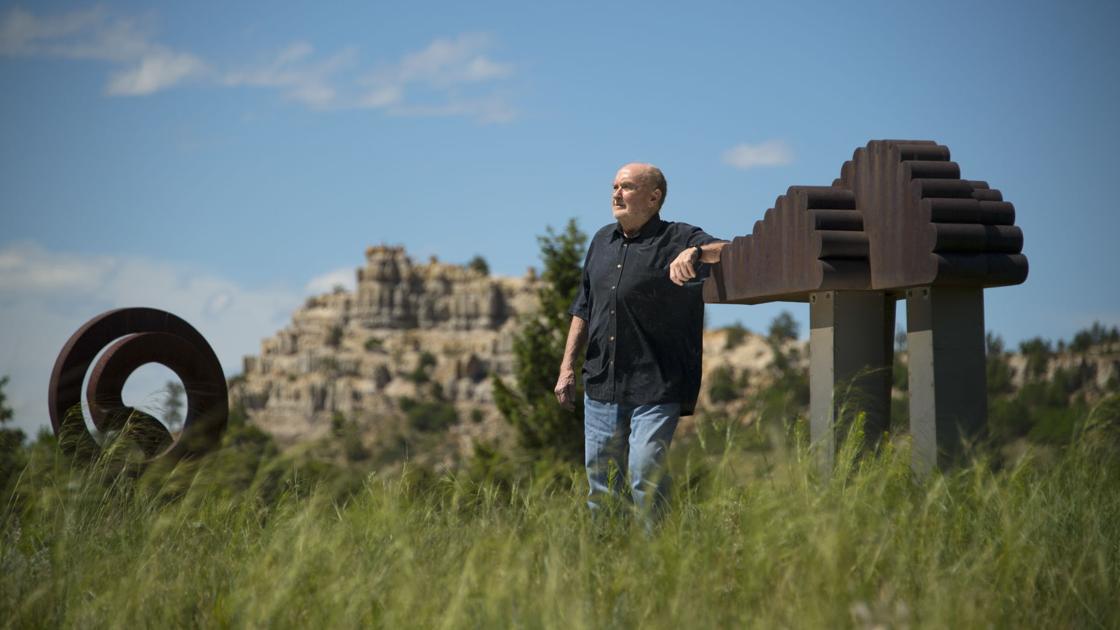 Sculptor Bill Burgess to Leave Legacy with 'Continuum', Another Work of Art | New
[ad_1]
Force and chaos. Curves and lines. Softness and steel.
Longtime artist Bill Burgess is a study of contradictions, often juxtaposing a material or shape with its polar opposite. Take her most famous sculpture "Continuum", also known as the Julie Penrose fountain, which reigns supreme over America the Beautiful Park. One of the largest sculptural fountains in the country, it stands imposing in its four-story glory, but the cold, unyielding steel is softened by its circular structure.
Recognized lover of curves, his work is easily identifiable by those who know him.
"It's an interesting shape," said Burgess, 87. "I have been doing things with arcs and circles for at least 20 years, and so most things have circles as one of the main things or evolve in a circle. I find that to be a very good thing – c it's fun to work with. "
Visitors to his home near the University of Colorado at the Ent Center for the Arts in Colorado Springs are treated to a walk through a sculpture garden, a landscape decorated with child-sized pieces that primarily feature the circles of steel that inspire him. Inside the modern house is a veritable museum showcasing the immensity of Burgess' artistic career: abstract sculptures on the walls, interlocking steel end tables, female nude drawings, large oil paintings. abstract oil and even a corrugated steel breakfast bar and decorative paneled steel walls on the second floor landing.
"He transformed that when we wanted to make the house contemporary," said his wife, Kat Jorstad. "He would never like to do it because he said, 'I'm an artist, not a cabinetmaker.' He would fight it, but he would. "
Right next to the dining room is Burgess' studio, always filled with tools and half-finished sculptures. He no longer paints and no longer welds. Health issues, including a stroke two years ago, have kept him from channeling the creative muse for the past three years. He calls it "being vacant".
"The urge is gone," he said. "Part of that was the job – welding and grinding is hard to do. It's hard to do alone, which I have done most of the time in my life."
One project that he did not do on his own is "Continuum". The idea sprouted at a cocktail party in the early 2000s, when architect David Barber asked Burgess if he planned to submit a proposal for the park's new fountain. Burgess said no but changed his mind when Barber suggested they team up and give it a try.
Their entry was one of two finalists selected in a 2001 blind competition held by the city of Colorado Springs. After a morning of interview and presentation, they learned over lunch that they had won the International Commission for Public Art.
Barber is a longtime fan of Burgess' work – he even owns a 2 foot tall sculpture similar to "Continuum" in his condominium.
"He's been working there for a long time. It's his life's work," Barber said. "He's a great local artist over there with (muralist) Eric Bransby. There are a lot of good artists in Colorado Springs. He's one of the most enduring and one of the best."
Burgess and his nearly lifelong friend and fellow sculptor Don Green are part of an old guard of local artists who rose to prominence after the Broadmoor Art Academy (now the Fine Arts Center) artist group, such as Boardman Robinson and Frank Mechau, who worked in the region in the 1930s and 1940s.
"They (Burgess and Green) ushered in an era of pretty much non-objective art," said Michael Cellan, co-owner of Bridge Gallery. "He's (Burgess) one of those pretty typical artists in terms of an attitude and a desire to do some really great art, and not get the recognition you necessarily get in Colorado Springs. Probably Don and Bill, if they were elsewhere, would have been much better known. "
Respond to the artistic vocation
Burgess created art for 50 years in the Pikes Peak region – a long enough period for a man who did not have an early interest in the creative realm. He was born in 1930 and raised in Illinois, but his father moved the family to Boulder during his senior year of high school. His youth was devoted to sports, and after high school he enlisted in the Navy during the Korean War.
Life, however, had a different path in mind. His friend Green, whom he met in Boulder, invited him to visit the University of Colorado at Boulder, where he attended classes. Burgess smelled a tantalizing scent of student life and signed up with a fuzzy intention to study engineering. He and Green became roommates and, once again, Burgess' plans were dashed in a freshman art class, when the drawing of the female form with its curves and lines intoxicated him. A passion was born.
Drawing led to painting, and a new world of abstract art opened up under his brush.
"Knowing that he could draw was the start of his abstract direction," Jorstad said. "He knew Picasso could paint like a photograph, but he (Picasso) chose to do something else. Bill chose to do something else. He tried to do realistic work, but Picasso inspired him to do something. apart from realism. "
After college, Burgess taught in Jefferson County until Green, who taught at East Junior High School in Colorado Springs, told him about an opening at the school. Burgess accepted a position as a junior high art teacher and was eventually transferred to Wasson High School, where he succeeded Green, who moved to the administration of School District 11. Burgess taught for two decades and retired in 1980.
"I took early retirement so I could spend time soldering rather than teaching," said Burgess.
Along the way, he had two daughters and a son with his ex-wife. They divorced in the mid-1980s and she died about five years ago. Her three children are in the arts to some extent, although they no longer live in the city. Daughter Lisa Burgess's eye-catching oil paintings hang on at least two walls inside her home, alongside a healthy collection of pieces by various artists.
Jorstad, whom he met at a cocktail party 19 years ago, still remembers the dump dates, when the couple went in search of inspiring items for their work. And when the time came for an engagement ring, Burgess surprised her instead with a circular sculpture that now rests near the backyard patio. At first glance, you don't notice the small ball and chain carefully placed at the bottom of the room. Jorstad herself didn't even see it until a visitor pointed it out. Oddly, Burgess claimed he didn't really take into account the meaning of the objects, claiming they had to be an unconscious addition.
Jorstad didn't care.
"I thought it was pretty darn awesome," she said of the engagement gift.
Leave a legacy
Tobias Kircher met Burgess in Wasson, when he spent his second and third years studying art. The teacher saw the raw talent of the young student and encouraged him to apply for a summer art session at the FAC, to which he was accepted. Kircher loved art but knew he was on his way to college. He didn't enroll in art during his senior year and barely lived to tell the story.
"Bill wanted people to pursue art if he thought they had the ability," said Kircher, a retired physician who practiced medicine for 35 years. "He was so mad at me. I was shocked by a teacher who berated me. We have laughed at it over the years."
The two, along with their wives, are friends who see each other regularly. The Kirchers own a few pieces by the artist, including "Introspection," a curved, rusty steel sculpture that lives in their backyard, and a water sculpture they asked him to build for their home in Santa Fe. , NM.
"He has guts for himself, which you sometimes feel in his art," Kircher said. "While it might not always be easy, it is a reminder that it is very real and very genuine. I think she is a very real and honest person that I certainly admire."
Burgess continued to educate himself during his tenure at Wasson. He first received an MA in Painting from Colorado College in 1970, then an MA in Sculpture from the Maryland Institute College of Art in Baltimore, which kicked off his love for this art form.
"By the time I did the sculpture downtown, I had been working in the city for 30 years as an artist," Burgess said. "I continued to grow. The art of Colorado Springs was born from the people who work in the field here. It's great."
Burgess' work is not relegated to the Pikes Peak area. It has about 20 rooms statewide, including Boulder, Grand Junction, Denver, and Fitzsimons Army Medical Center in Aurora. Dozens of pieces have been purchased from local private collections, and the FAC owns three, including "Opus 1", a rusty steel sculpture from 1998 on display in the courtyard, and "Good to Choice Sunset", which is often seen in Touch. Gallery. He also designed one of two 7 Minute Spring fonts in Manitou Springs, with the help of potter Maxine Green, Don Green's wife.
"I know her work is most recognizable for the minimal elegance of form," said Joy Armstrong, FAC Curator of Modern and Contemporary Art, "notably for the recurring use of beautifully curved lines."
Potential buyers always come to his house to browse his salable art.
Those in the know agree that Burgess has made a long-lasting contribution to the community. He received the Eve Tilley Lifetime Achievement Award at the Pikes Peak Arts Council Awards in 2015.
He appreciates accolades, but what appeals to him most is the idea of ​​leaving his work behind for others to enjoy.
"He retired because he loved making art and wanted to be part of a group of people who make art and contribute to the community," Jorstad said. "He sees the world in a different way than we see. If you walk down the street, you see one thing, and he sees the shadow. Creating from what he sees awakens something in the observer."
[ad_2]