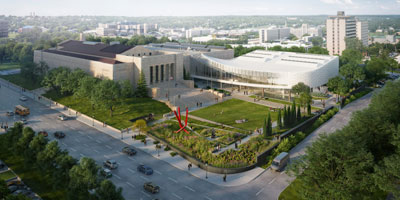 Snohetta unveils site expansion and redesign at Joslyn Art Museum
[ad_1]
Snøhetta unveiled its new extension and redesign of the Joslyn Art Museum site in Omaha, Nebraska, developed in partnership with local architects Alley Poyner Macchietto Architecture (APMA).
The 3902-m2 The addition (42,000 square feet) will add light galleries designed to meet demands and explore the possibilities of a growing permanent collection, including works from the nationally recognized Phillip G. Schrager Contemporary Art Collection.
In addition to the new gallery spaces, the team of architects will design over 1.2 ha (3 acres) of public gardens and rejuvenated outdoor spaces on the museum site, as well as restore and modernize the office spaces. existing in the Joslyn Memorial Building.
The expansion renews Joslyn's status as Omaha's premier cultural center for the visual arts by reorienting the museum's grounds around a reinvented public arrival anchored by new community spaces that support the galleries.
Snøhetta and APMA's design for the new building expands the existing gallery space by more than a third with newly interwoven interior and exterior art experiences and a completely redesigned audience arrival sequence.
While the existing monolithic buildings are more strongly anchored to the ground, the new building floats above two granite garden walls, with a transparent first floor enclosing a new atrium, a museum store and a multi-functional community space.
The extension building springs from the current glass atrium as a curved, low-slung volume that gradually changes from glass to solid, transforming the horizontal skylights of the existing atrium into solid vertical walls that keep the new galleries lit by the day of the extension to the second floor.
The expansion moves the front door from its most hidden location inside the existing glass atrium to the edge of the entrance aisle. In bad weather, museum visitors can take advantage of the new covered landing stage, sheltered from the elements by the gallery's vaulted ceilings.
The pavilion will be named after Rhonda and Howard Hawks of the Hawks Foundation. The Hawks Foundation provides grants for higher education, social services, Christian organizations, and the arts.
[ad_2]