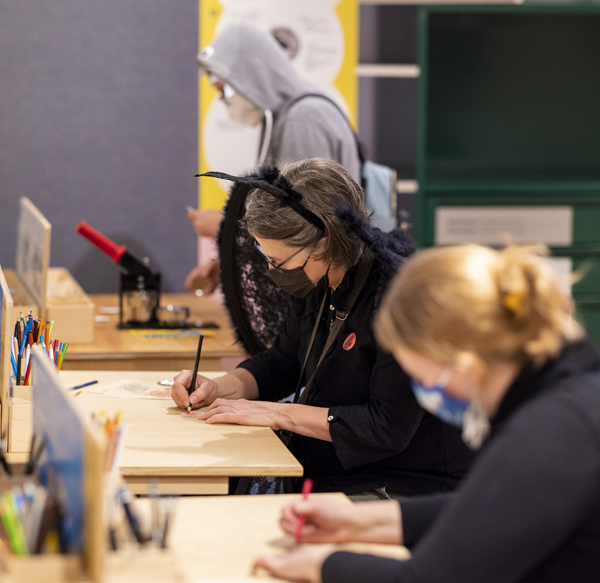 Spring 2022 Educator Evening | Denver Art Museum
The teachers' lounge, open all evening, from 4:30 p.m. to 8:30 p.m.
In the Sturm Pavilion we will have a space to create, relax, snack and socialize. Plus, you'll find an example of our traveling art exhibition program, Art Lives Here, information on all of our excursion offerings, and demonstrations of how to get the most out of our educational resource website. Location: South Sturm Pavilion, Martin Building
Workshop Session 1, 5:30-6:30 p.m.
Tours 101: Feeling overwhelmed where to start planning an excursion? Meet our group services team who will walk you through step-by-step how to book, prepare and get the most out of your visit. This interactive workshop is flexible to meet your needs, ask as many questions as you want! Location: Sky Blue Workshop, Martin Building, Level 1
memory mirror with Lares Feliciano: Meet and learn from local artist Lares Feliciano as she explores her creative process and current installation, memory mirror. Lares describes herself as an interdisciplinary artist and cultural worker. Their immersive installation invites visitors to explore their relationship to memory and is sure to spark cross-sectional thinking. Location: Galerie Precourt, Hamilton building, level 2
Social time and artistic talks, 6:30-7:30 p.m.
Connect with your colleagues and explore the museum. An assortment of featured 10-minute lectures can be found in the Architecture and design galleries (Martin Building Level 2), Disruption: Works from the Vicki and Kent Logan Collection (Hamilton Building Level 3), and the Northwest Coast and Alaskan Native Art Galleries (Martin building level 2).
Workshop Session 2, 7:30-8:30 p.m.
Want more? Check out the workshop you missed in the first session or continue exploring on your own!
Tours 101: Feeling overwhelmed where to start planning an excursion? Meet our group services team who will walk you through step-by-step how to book, prepare and get the most out of your visit. This interactive workshop is flexible to meet your needs, ask as many questions as you want! Location: Sky Blue Workshop, Martin Building, Level 1
memory mirror with Lares Feliciano: Meet and learn from local artist Lares Feliciano as she explores her creative process and current installation, memory mirror. Lares describes herself as an interdisciplinary artist and cultural worker. Their immersive installation invites visitors to explore their relationship to memory and is sure to spark cross-sectional thinking. Location: Galerie Precourt, Hamilton building, level 2
The teachers' lounge, check in before you go
Help us grow! Be sure to drop by the staff lounge on your way out to provide your thoughts on the evening and suggestions for future events. Survey respondents will be entered to win a grand prize! Venue: South Sturm Pavilion, Martin Building