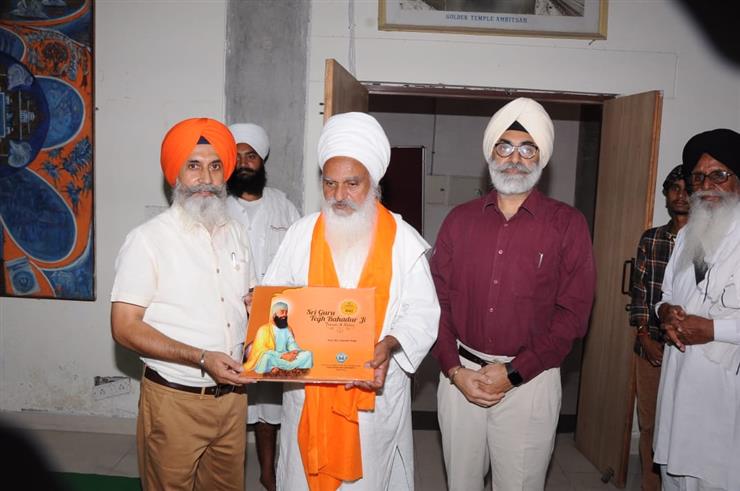 Sri Guru Granth Sahib 330-Year-Old Rare Manuscript Floral Artwork Exhibition Opened at Guru Nanak Dev University
AMRITSAR: An exhibition dedicated to the 418 years of Parkash of Sri Guru Granth Sahib was opened here today in the exhibition hall of Sri Guru Granth Sahib Bhawan. Padam Shri Baba Sewa Singh ji of Khadur Sahib opened the exhibition. Professor SS Behl, dean of academic affairs was present during the inauguration. Professors, students, researchers and other staff were also present on this occasion.
Baba Sewa Singh said that our heritage is very rich and its preservation is a great responsibility. He said that our young generation should be made aware of our heritage and the information obtained in such exhibitions can be very useful. He said the artworks made in the ancient birs of Sri Guru Granth Sahib Ji are an example of the rich artistic culture of the Sikhs.
Professor Behl said the art forms on these ancient Sri Guru Granth Sahib ji birs show that ancient Sikhs paid full attention to spirituality as well as art, history and other aspects of life. He said today's exhibition is an important step in the direction of more research in this area and its preservation.
Prof. (Dr) Amarjit Singh, Director of the Center for Sri Guru Granth Sahib Studies, said that the exhibition will explore the incredible never-before-seen floral art work of different designs in the Sri Guru Granth Sahib manuscripts of the XVII to XIX century. He said that Sri Guru Granth Sahib is not only a treasure trove of spiritual knowledge but also has an authentic and exclusive history of its preparation, completion and acquisition of guruship.
Prof Singh said there is a long tradition in Sikh history of recording Gurbani at Pothis. The tradition of preparing manuscript Granths began with the compilation of the 'Adi Sri Granth Sahib' in 1604 AD. The writing history of the Granths helps us to understand the growth of Gurmukhi script calligraphy at different stages. Apart from this, the utmost care and devotion used while writing Gurbani also has its own interesting story.
There was also a golden period in the history of Granth writing when very beautiful works of art began to be made in these handwritten Granths. So far there has been very little discussion of how colored vines and various other shapes such as rectangular, square, octagonal, circular domes, of various designs had been depicted in the margins when writing of Granths. Information on this topic has also been very limited. One of the main reasons for this situation is that access to these manuscripts has been very difficult. The Sri Guru Granth Sahib Center of Studies has contacted the states of Punjab, Haryana, Delhi, UP, Bihar, Nepal, Rajasthan, Madhya Pradesh and Maharashtra under the project to digitize them to preserve ancient and rare manuscripts. Over five hundred manuscripts have been digitized by the Centre's Professor Amar Singh from these locations.