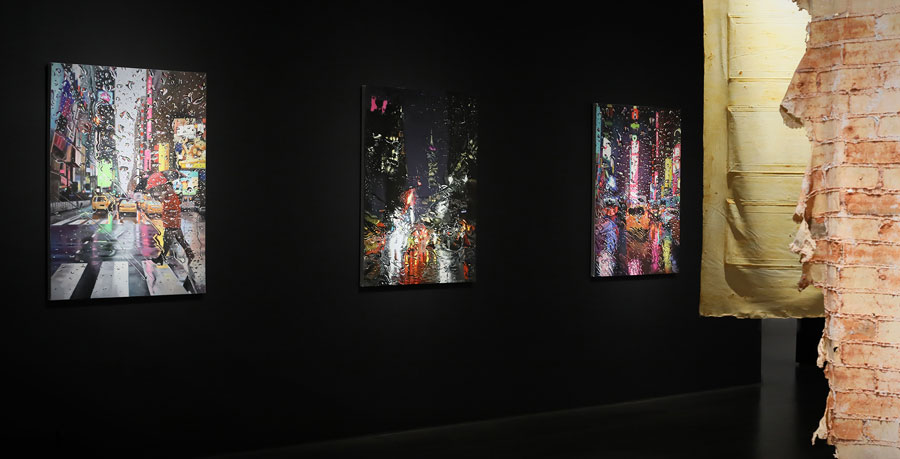 Three New Exhibitions to Open This Week in Bradbury Art Museum
Three New Exhibitions to Open This Week in Bradbury Art Museum
07/09/2022
Installation view of Windgate Gallery. Artwork by Michael Steinbrick and Carlie Trosclair.
JONESBORO – Three new exhibitions will open in Bradbury Art Museum (BAM) at Arkansas State University with a 5-6:30 pm reception Thursday, Sept. 8.
"People/Places/Things: Perspectives on Identity and Moments of Familiarity" brings together 14 artists, from nine states, whose work engages with realism, whether it be stylistically or conceptually. This exhibition continues through Nov. 30 in the Kays Gallery, Pardew Gallery, Stella Boyle Smith Gallery and Windgate Gallery of the museum.
Work by Kristen Franyutti, assistant professor of studio art at A-State, will be exhibited in "Unlatched," in Gallery A.
"Viewing my work transports the viewer into an illusory world of biomorphic forms inspired by recent innovations in applied science, the human body, and its surroundings," Franyutti said in her artist's statement. "The work depicts a future ecosystem of otherworldly elements, a world in which the inhabitants are hybridizations and mutations of the micro/macro realm of our ecosystem."
Former faculty members Ryna Frankel and Alex Hanson will have art in "Soon to be Beachfront Property," an exhibition in the Vaughn Gallery.
These two exhibitions will continue through Oct. 6.
Through a wide variety of mediums and disciplines, the artists in "People/Places/Things" explore identity, place and the significance of mundane objects, according to Garry Holstein, director of BAM. Viewers are invited to reimagine the everyday and question their own perceptions of reality.
The museum is admission free and open to the public 12 – 5 pm Tuesday through Saturday.
Bradbury Art Museum is located in Fowler Center, 201 Olympic Dr. on the Arkansas State University campus.