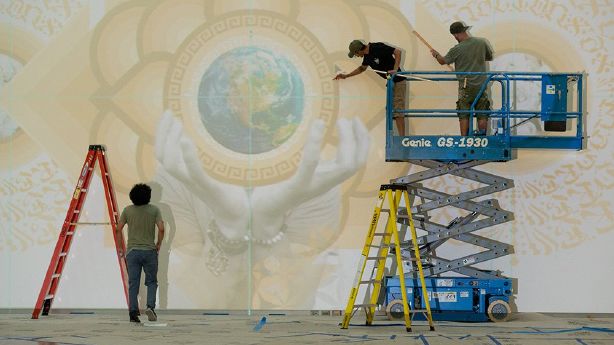 Utah Museum of Art invites community artists to bring their work inside in new exhibit
Alan Ochoa, left, Luis Novoa, center, and Miguel Galaz of the Roots Art Kollective paint a mural for the new UMFA exhibition. (Utah Museum of Fine Arts)
SALT LAKE CITY – In recognition of the murals that swept through Salt Lake City in 2020 and documenting the global pandemic and racial injustice, the Utah Museum of Art invited the Roots Art Kollective to design an exhibit mural in a museum.
This exhibit, "2020: From Now", opens Saturday with murals inspired by the literal voices of the Utahns.
"The museum was so inspired by the reactions of the community around the events of 2020, especially the muralists here in Salt Lake City. They really inspired us in such a way that we basically decided to turn our large gallery over to these artists. murals based in Utah to continue to respond to 2020, but also to express their hopes for the future, "said Meggie Troili, UMFA's Adult and College Programs Coordinator.
Among these artists was the Roots Art Kollective, a group formed in 2019 by three local artists. The group describes its mission as the expansion of "public art to create a dynamic environment that allows people to learn more about the cultures that enrich our communities." With this mission in mind, Roots and UMFA asked local muralists and community members to envision the year 2020.
The year was marked by the COVID-19 pandemic and global protests amid racial injustice, subjects featured in murals that began to appear across Utah.
"An institution like this is really important to the whole movement that is taking place here in Salt Lake and around the world. It's like a megaphone to open up and send messages even further, "said Miguel Galaz, Roots Artist Kollective Art.
The partnership between the two organizations represents a change from the curatorial model generally practiced by artistic institutions like UMFA. The project involved artists, selected by a committee, who then designed murals to reflect the perspectives and interests of many communities in Utah.
Some of these perspectives have been shaped by the voices of the Utahns. The muralists were able to listen to a collection of audio recordings from Utahns who called a hotline to share their thoughts on 2020 and their hopes for the future.
These reflections reflected questions of how to move forward as a nation as political divisions grow, adjusting cultural practices of touch like hugs, handshakes, and high fives during a pandemic, which individuals have survived throughout their lives and how to move forward.
UMFA's change from the typical model was noted by members of the Roots Art Kollective who said the partnership demonstrates the potential to bring public works to remarkable art spaces.
"Very few museums have done something like this, bringing something that has lived on the streets or was created on the streets, and then brought it into a museum," said Alan Ochoa, another Roots artist. Art Kollective. The group noted that public art has been used across time to document history and that the exhibit provided the public with an accessible opportunity to reflect and heal.
"It was important for us to cede the space to them. And now they are standing alongside ancient works from Mesoamerica in our Mesoamerican gallery to our Japanese gallery to contemporary artists, and it is essential to have these local artists based in Utah in our gallery, important to all of us, "Troili said.
The mural painted by the Roots Art Kollective features a man holding the earth and white roses surrounded by yellow on both sides. In calligraphy, "find strength and love to heal" is written in English on one side and the same phrase is written in Spanish on the other side.
The white roses and the phrases symbolize a feeling of renewal but also of loss.
"When someone looks at a work of art, things can be interpreted differently from the person's point of view and that is included even in this design. We have different perspectives," Ochoa said. "But for me it was almost like holding the earth and showing the value of life and how precious it is and how delicate our society is and just this awareness that we had of the pandemic."
The exhibition features pieces by Roots Art Kollective, Ella Rises, Bill Louis and Vaimoana Niumeitolu.
To include your perspective on 2020, you can call the UMFA hotline at 801-581-8336 to submit an audio recording. The exhibition will be open to the public on Saturday September 25. For more information, visit umfa.utah.edu.
×
Related stories
More stories that might interest you