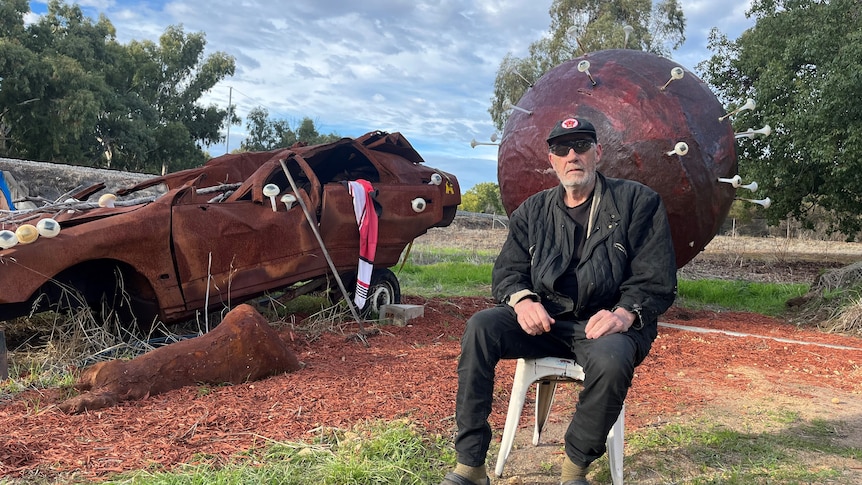 York art exhibit by Tim Burns removed after claims of Aboriginal appropriation
Just outside the city of York in the Wheatbelt is Cave Hill Farm, a sacred site to the indigenous Ballardong people.
Key points:
WA art exhibit pulled after claims of Indigenous appropriation of sacred site
The artist says he followed protocols and received permission from official guardians.
The issue has sparked debate over how appropriation requests are handled
Once a place of business for men, the property was used to hold initiation ceremonies and once housed exhibits of Aboriginal rock art.
But the site has now become the center of a cultural dispute.
An exhibition by well-known artist Tim Burns has been pulled from York's 152 gallery just five days into its month-long run after being criticized for appropriating Aboriginal culture.
"I was shocked – we never gave him permission"
The exhibit featured photographs from a nearby quarry and gave a written history of Cave Hill's significance.
The text was condemned by some members of the local Kickett family, including former Curtin University professor Marion Kickett.
"It's wrong. He shouldn't have put it up," she said.
His nephew Rohin Kickett, an artist from Noongar, also led the campaign to have parts of the exhibit taken down.
"By creating these works of art, by talking about a sacred site and its meaning, he took the intellectual property and used it for his own purposes," he said.
The man behind the work is award-winning artist Tim Burns, who featured in galleries domestically and overseas as early as the 1970s.
He denied breaking cultural protocols and said he spoke to official guardians before proceeding with the project.
"They came and wrote out all the things they didn't think were applicable, and I agreed," he said.
"My job is to look at controversial things. I've been doing that for about 60 years."
Burns has worked with Indigenous artists for decades and won awards for his short film, Luke's Party, produced with Aboriginal director Ros Sultan.
He owned the quarry and wanted the show to explain why he bought the land.
"I saw it as a metaphor for white and black politics… I was struck by the fact that having a career next to the site felt a bit like the Juukan Gorge situation," he said .
But Professor Kickett said the well-known artist had misled the gallery.
"I was shocked…I never, ever spoke to Tim – I never gave him any permission," she said.
A spokesperson for Gallery 152 said they chose to remove the exhibit because they "did not want to hurt or cause pain" to the community.
Differing opinions among locals
The case highlighted a range of perspectives on how appropriation is handled and from where permission should be sought.
While some have argued vehemently that parts of the exhibit were rightly removed, Ballardong elder and artist Dennis Kickett said he had a different view.
After changes were made to the text, he saw nothing wrong with the display.
"Some things shouldn't have been put in place and I talked to Tim about it, and Tim understands that," he said.
"What I disagree with is Rohin [Kickett, his nephew], a young man… circulating making these statements. He doesn't represent our family."
But Rohin, who has worked for years advising organizations on cultural appropriation, said Burns misrepresented his family and had no right to share information about a sacred site.
"For me and the next generation of Noongar artists coming in, if they want to explore these things, there should be room for them.
"It shouldn't be picked up by non-native artists."
Burns said he "thought I did what I was supposed to do."
"The big issue here, and what we should be careful of, is this total censorship of the interaction between Indigenous and white artists…it's a multicultural situation."
Job , updated